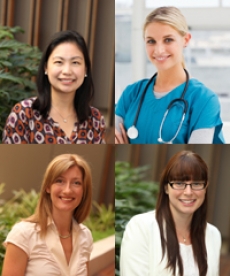 Millions of Australians could benefit from improved access to healthcare thanks to a $2.5 million federal government grant to fund a Centre for Research Excellence in telehealth.
UQ Business School is working on the project, which will explore ways to deliver health services to people at a distance through the use of new technologies – for example by enabling remote patients to consult with specialists in real time through video conferencing, and medical staff at different locations to share patient information.
Telehealth could offer particular benefits to people in remote or indigenous communities, or those with limited mobility such as elderly or disabled patients. However its uptake has been sporadic and is used by only a limited number of health practitioners.
The project is being led by UQ's Centre of Research Excellence (CRE) in Telehealth, which has been awarded funding from the National Health and Medical Research Council. Dr Nicole Gillespie, Senior Lecturer in Management at UQ Business School, is a Chief Investigator of the Centre, and will be working alongside an interdisciplinary team of UQ experts from the Centre for Online Health, the Telerehabilitation Research Unit and the School of Medicine, as well as clinicians from the Inala Community Health Service and health economists from Griffith University.
The UQ Business School team will also include RhD students Teegan Green and Joanna Kho. Nicole says: "Telehealth is a disruptive technology that will radically change the way healthcare is delivered in the future. Successful implementation of telehealth requires careful attention to management processes. Telehealth involves significant change for clinicians, patients, and healthcare organisations. Resistance and distrust are common reactions to such change. Patients and their families may question whether telehealth is in the patient's best interests while clinical staff may be concerned about whether there is adequate education, training, facilities and resources.
"Our role will be to investigate the facilitators and barriers to uptake, how best to build trust in telehealth services and successfully implement it across a variety of clinical settings, including residential aged care facilities, rural hospitals and indigenous communities."
Professor Andrew Griffiths, Dean of UQ Business School, said: "In a vast country like Australia with a widely dispersed population, telehealth offers enormous potential to improve access to healthcare. But while the potential benefits of are often acknowledged, uptake of telehealth by practitioners has been limited. This research is critical to enable us to understand and overcome the barriers.
"Nicole is known internationally for her research into building trust in organisations and this, together with her management expertise, make her ideally placed to explore these important issues."