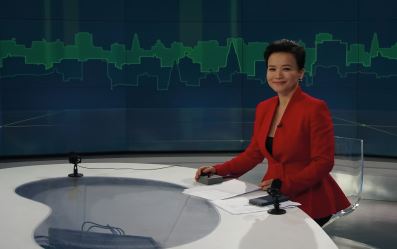 UQ Business School alumnus and China Central Television (CCTV) news anchor Cheng Lei has received a coveted Australia China Alumni Award (ACAA) for ICT and New Media on Saturday night in Shanghai.
The ACAA is a high profile initiative recognising the wide-ranging achievements of Australian university graduates who are based in China, either as locals or expatriates, and celebrates the deepening Australia-China relationship.
Originally from the Chinese province of Hunan, Ms Lei is an Australian citizen and graduated with a Bachelor of Commerce from UQ Business School in 1995.
"Studying at UQ Business School has given me an innate sense of freedom, to seek alternative perspectives, to always question," Ms Lei said.
"The commerce degree was an excellent all-round basis for my career - which has evolved from analysing efficiencies of chocolate making, to ensuring strict controls in petroleum exploration, to reviewing the failure of a Sino-Australian joint venture, to reporting on business stories to a global audience."
After starting her career in Australia as an accountant and business analyst for Cadbury Schweppes and ExxonMobil until 2000, Ms Lei returned to China in 2001 and developed a strong interest about stories that related to China's rapidly changing economy.
In 2002 Ms Lei changed careers and became a reporter for CCTV-News before spending nine years with CNBC Asia in Shanghai and Singapore, and returned to Beijing and CCTV-News in 2012.
Ms Lei is a bilingual anchor who has presented in both English and Mandarin.
Over the course of her career she has interviewed many of the world's leading business and political leaders including Microsoft founder and philanthropist Bill Gates and European Commission president Jose Manuel Barosso.
Ms Lei is also an Australian Government accredited translator and sought-after Master of Ceremonies, with a number of hosting engagements to her name including the Australia China Business Awards 2013 and the APEC Women Leadership Forum 2014.
UQ Advancement Pro Vice-Chancellor Clare Pullar said UQ is extremely proud to count Ms Lei as an alumnus.
"Cheng Lei is an inspiration to students and alumni alike as an example of someone who has combined talent and hard work to achieve success," Ms Pullar said.
"Ms Lei also demonstrates that people should follow their passions, even if it means a career change, and back their own abilities."
Ms Lei appeared on ABC television's Q&A program earlier this year, which can be seen here.
UQ Business School also celebrated the evening with Mr Vaughn Barber (Bachelor of Commerce '92) who was named a finalist in the Australia China Alumni Award in the Banking and Finance category.