The innovative
doctor using
his MBA to
improve health services 
The innovative doctor using
his MBA to improve health services 
As an experienced clinician, Dr Alex Chaudhuri might not have seemed like the typical Master of Business Administration (MBA) candidate. But after reaching a certain level in his career, Alex was ready to broaden his perspective.
Working as the Director of Infectious Diseases at Prince Charles Hospital, he had strong technical skills. However, he knew it would take a different set of skills to amplify change at an organisational level.
Alex says the UQ MBA helped him gain the business leadership skills required to think about healthcare in a new way. But he also experienced transformational realisations that reinforced his sense of purpose and diverse connections he'll value throughout his career. In 2021, Alex used what he'd learned to launch SureText, a secure messaging app designed to improve communication between health professionals.
Why health practitioners can benefit from MBA learnings
Coming from a health background, Alex was keen to gain a broader understanding of business fundamentals. "My belief was and is that some of the answers to health systems issues will come from outside health," he said. "I wanted to broaden my perspective and opportunities and I knew the MBA would do that."
"That's why the course content was so valuable to me. It improved my knowledge and made me more insightful, which was empowering," he said.
It isn't common for practising clinicians to complete an MBA so Alex wanted his employer's support.
"Thankfully, he could see the benefit the organisation would get from me embarking on an MBA. That needed broad-mindedness about the relevance of the MBA. He had to trust I wouldn't neglect my work and that I'd be available to discuss any issues that arose. I needed a boss who could see what I was seeing in my journey as well."
Get tips on how to ask your boss to support your MBA
While some might struggle to see how business insights could be useful in healthcare, Alex found he was able to apply everything he learned during the MBA to his work.
"I think an MBA applies to healthcare in many ways," he said.
"For example, it's all well and good to have an effective treatment. But the MBA taught me to think about the best way to deliver treatment to the patient."
Alex says the MBA prompted him to consider critical questions like:
What's the best way to deliver healthcare to patients?
What's the operations design?
How do patients access healthcare?
Are we doing this in a cost-effective manner to justify the return on investment?
How do you get feedback from the patient and how do you learn from that feedback?
"I used the MBA learnings to design and implement a hospital in the home model of care," Alex said.
This model allows the patient to stay at home and receive care as though they were in the hospital. In Alex's field, that care typically means intravenous antibiotics for a serious infection. But he says there are many other applications.
"Patients love it. Outcomes are as good as hospital care, and it's more cost-effective. It's a bit of a no-brainer in certain contexts. But moving to this model of care was never going to be easy, because it's relatively new here in Australia.
"Applying lessons from the MBA was an exercise in change management that helped me implement and improve that model of care," he said.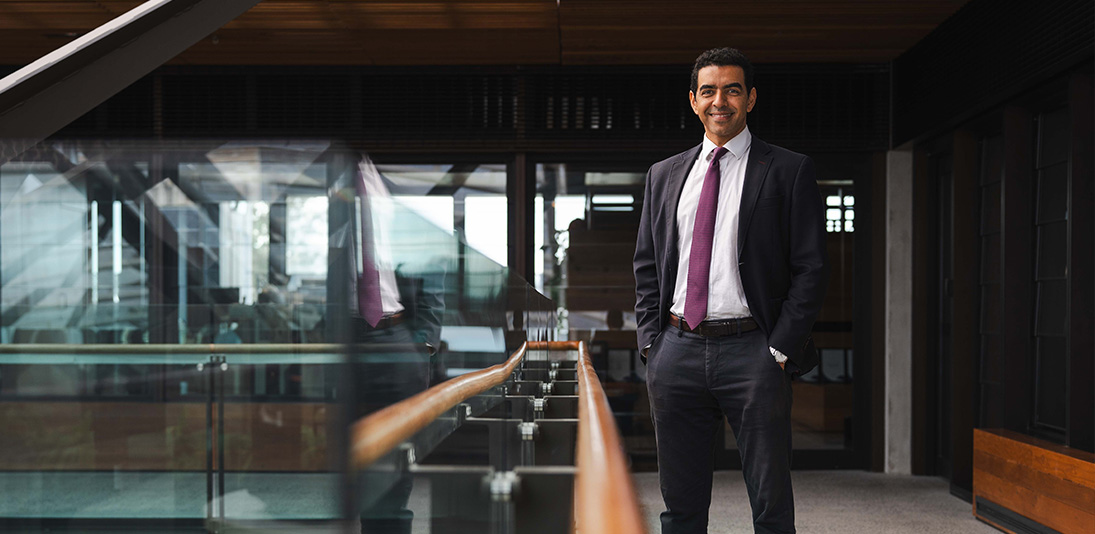 Transformational leadership and growth
In addition to gaining business skills, Alex says the greatest growth opportunity he experienced came from learning about leadership. And there were plenty of chances to do that in the UQ MBA.
While there's a strong focus on leadership and management development woven throughout all MBA courses, there's also a dedicated Leading People and Teams course.
"The technical skills I already had were, if anything, enhanced by the soft skills I developed during the MBA," Alex said.
"Learning about leadership was one of the most valuable things I got out of the MBA.
"I found it helpful to understand leadership frameworks and theory. We also had one-on-one executive coaching to help us understand our own leadership style. We received 360-degree feedback and had the opportunity to practice leadership throughout the program.
"Being open to my own leadership style heightened my self-awareness. Fundamentally, I saw a change in myself.
"The MBA made me realise leadership is the bedrock of business. That's why the MBA is critically important to healthcare. It's essentially a people business, in every way you look at it.
"I saw how the leadership frameworks and tools I studied helped me be more effective at work. I learned to be more compassionate, empathetic, and ultimately, more effective as a result and that's a very powerful thing."
The value of experiential learning and connections
One of the strengths of the UQ MBA is the opportunity students have to connect with a diverse, experienced cohort. Coming from different industries and backgrounds, students find their learning enriched by the relationships they develop in the classroom.
"The cohort was very diverse in terms of industry and seniority levels," Alex said. "There's no doubt that from that diversity, we got so many insightful perspectives.
"This intersection of domains and industries opens your mind and gives you a competitive edge. It opens you to solutions or ideas that you wouldn't have had in your own little bubble. Being able to reflect on my problems and listen to my peers reflect on theirs and their journeys was priceless. That's why my MBA peer group is important to me.
UQ MBA students also benefit from experiential learning opportunities with the chance to develop relationships with lecturers and industry professionals.
"You can't put a price on having the opportunity to practice practical skills through industry engagements," Alex said.
"I believe you go very far as a collective. The connections I made during the MBA will be my brain trust forever more."
See how UQ MBA students gain industry connections and experience via capstone projects
Putting communication at the heart of healthcare
Being passionate about healthcare and going through the MBA allowed Alex to identify opportunities to improve healthcare operations and delivery. A few years after he graduated, Alex had the idea for SureText, a secure messaging app for clinicians.
"The smartphone is supreme now in most communications, including professional," Alex said. "But inter-clinician communication via generic messaging apps on a smartphone is problematic in many ways. These messages don't meet the requirements that would typically apply to a health record, and they can't be audited.
"SureText began as an idea on the back of a proverbial envelope after observing this problem first-hand," Alex said.
"It allows healthcare professionals to communicate a lot of information quickly and directly. It's convenient, like generic messaging apps. But it's also valid within a healthcare information framework because it provides security, privacy and can be audited.
"As someone without a business background, the MBA gave me the skills and confidence to pursue this idea as a startup."
In a full circle moment, Alex became a client of the UQ MBA Industry Engagement Capstone Course. This allowed him to tap into the diverse perspectives of the next MBA cohort, whose evidence-based advice informed the next steps in SureText's product development and marketing.
While Alex primarily identifies as a clinician who practices bedside medicine, the MBA led Alex to clarify his purpose in healthcare. Ultimately, the MBA helped Alex realise his passion for helping clinicians and patients connect.
"I don't think I'm overstating when I say that the MBA was profound for me," he said.
"My marketing course taught me how to better engage with my patients. The leadership courses helped me better engage with my own team. While I thought the MBA would make me a better health systems manager, it also made me a better clinician.
"While I continue to practice as a clinician, I'll always be thinking about creating or nurturing a healthcare system that improves access and fosters connection amongst clinicians, and between clinicians and patients. Fundamentally, managing that change is going to be my journey."