The MBA
graduate using
business
leadership skills
for good
Meet the Chief Strategy Officer
working to change the game
The MBA graduate using
business leadership skills for good 
Meet the Chief Executive Officer working to change the game
Camilla Roberts' career has been driven by a desire to make a difference. As a Global Marketing Manager, she worked with famed chef Jamie Oliver in London to address childhood obesity. Then, Camilla returned to Australia to work at a company ousted in AFR as one of the few ASX 200 companies without women executives or board members.
A lot happened while Camilla was studying the UQ Master of Business Administration (MBA). Initially, her company provided financial support for her studies. But following the flooding, that company made 50 per cent of their head office redundant. This led Camilla to start her own freelance consultancy. She also took on a board director role and became pregnant with her first child. Now, Camilla is the founder and Chief Executive Officer of Scale Impact, which helps innovative companies scale their impact through non-dilutive funding services.
Here's how Camilla juggled competing priorities to graduate with the skills and confidence to pursue a rewarding career that makes a difference.
Learning how to run a business and eradicating blind spots
Despite her specialist marketing background, Camilla felt not having a holistic understanding of business was holding her back. Camilla joined the UQ MBA to improve her leadership skills and gain the knowledge she needed to succeed in business.
"I wanted to understand how businesses can accelerate with the help of investors but retain their value and purpose," she said. "To do that, I needed to understand how businesses work and how they're structured."
"It's so good to learn all the different skills and subject areas of business. It's like learning all the departments in an organisation, which means you don't have any blind spots. This is really important when you get into a meeting room because you understand everyone's perspective and their value.
"It also helps you prioritise what matters in the business and understand your role in making change occur. This increases your effectiveness and makes you more valuable. And that gives you confidence.
"Having confidence means you're more willing to take risks and propose new ideas because you trust yourself. You're also less concerned about other people's reactions to your suggestions," Camilla said.
"The confidence I've gained from understanding business is one of the most valuable things I gained from the MBA. I feel like I now have all the pieces of the puzzle to make magic things happen. And that's a real gift."
Camilla's MBA boosted her confidence at work. It also proved beneficial in her role as a non-executive director for a not-for-profit organisation based in Melbourne.
"I learned that profit is so important to sustainability and scaling impact, even in the not-for-profit space," she said.
"You can't have maximum impact if you don't know how to run a business or not-for-profit well. Realising this led to a real mindset shift. I have previous experience working in the not-for-profit space, where profit can be considered a negative term. But if you're reinvesting profit to have an impact or to make an organisation more sustainable so it can have that positive impact for the long term, profit suddenly becomes a positive word in the not-for-profit context."
A tailored learning experience
Camilla focused her studies on startups, high-growth innovation businesses, and venture capital due to wanting to accelerate and scale the impact of companies with social, economic or environmental benefits. That's why she founded her company Scale Impact. She also had the opportunity to apply what she learned in the MBA to her work then and now.
"I loved tailoring what I learned in the subjects to my interests and passions," she said. "I used the assessments and courses for my work and focused on sustainability startups. This helped me develop a speciality.
"For example, I had to do an assignment for the operations class and I wanted to do it on scale-ups and accelerators. That's not traditional for an operations subject, where you typically think about manufacturing and construction theory.
"But with my lecturer's support, I applied operations theory to the high-reward, high-risk world of venture capital startups. It was a really valuable experience.
"I still use this assignment in my work today. It helps me find good companies to work with, which is hard in the startup venture capital world.
"Even last week, I was trying to work out the time value of money for a negotiation. I was able to refer back to another old assignment where I'd done the deep thinking before and applied the insights to this new situation."
How Camilla made the MBA's flexibility work for her
Fitting study into a busy life is always challenging. Camilla arguably had more going on during her MBA than most.
"I was in a full-time, busy corporate job where I was often travelling. Then, I was made redundant. I had to create my own work, so I started my own consulting firm while searching for another full-time job.
"At the same time, I held a non-executive director position on a not-for-profit board. I was also planning to have children and juggling other general life commitments.
"To cope, I took advantage of all the flexibility options available in the MBA. I tried studying full-time by attending morning and evening classes while working full-time, and then I did some intensive courses.
"I had to get really good at scheduling and working out what was most important during this time. But learning how to be the most efficient with limited time really stood me in good stead beyond the MBA," she said.
Camilla also became pregnant with her first child towards the end of her degree. When she realised her due date lined up with her final finance exam, Camilla knew she needed to ask for help. 
"It's very hard to predict how you'll feel physically and mentally after having a baby," Camilla said. I discussed my concerns with the MBA Director. We found a solution that allowed me to take the exam early due to my circumstances. I ended up getting a good mark for that subject, and the baby was fine as well!"
Learn more about the flexible study options available to you as an MBA student.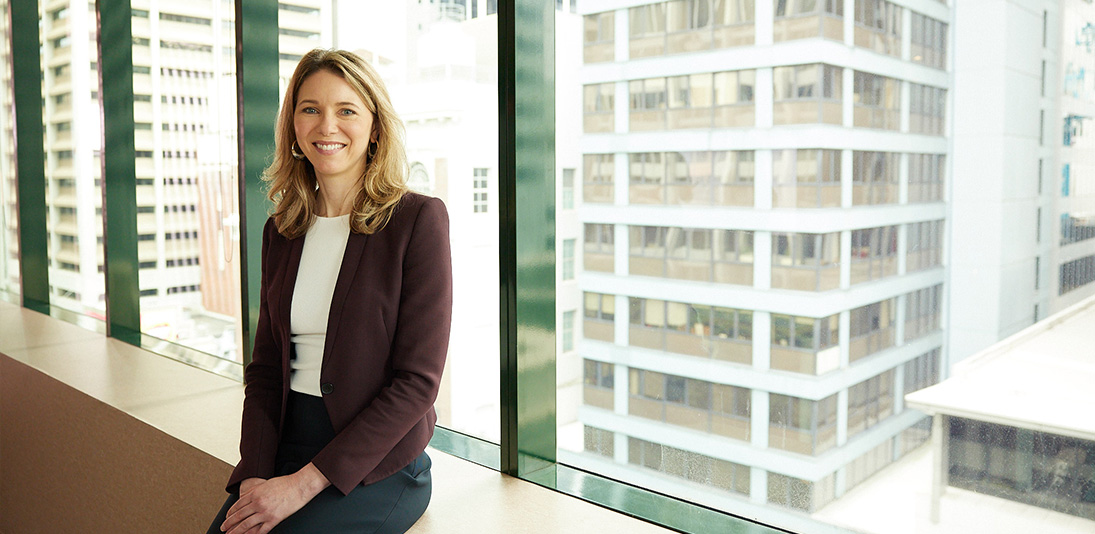 From Harvard to career mentors: Creating connections for life
Camilla chose UQ for her MBA because she wanted to make valuable connections. "Who you study with is really important," she said. "The network of connections I made while studying is still in my corner today.
"It can be difficult to create friendships, find support from senior colleagues and be open about your personal life at work. That's why the MBA network is so great. You can be honest and really unlock what's important to you and access support to achieve it."
The MBA Careers and Professional Development Team are passionate about connecting students with contacts to foster personal and professional opportunities. Camilla utilised this support and connected with people who had achieved success in scale-ups and venture capital. 
"They introduced me to two gold-standard people. They were very generous with their time and met me for coffee," Camilla said. "I'm still in contact with them now, but I wouldn't have had that introduction without UQ." 
In the MBA, students can expand their global network by studying at an international partner institute. Camilla chose to go on an exchange to Harvard and took this opportunity to get in contact with like-minded contacts in America.
"I was really lucky to meet a particularly fantastic set of students on the Harvard Exchange. Now, we're each other's cheer squad back in Australia," she said. "They're from different career paths and all incredibly successful, amazing minds.
"When we were at Harvard it was the 4th of July and we decided we wanted to learn how to sail. We went to the sailing club by the park where the Boston Pop Orchestra played. There, we sat in boats, toasting, with fireworks going off around us.
"That's the kind of magic that you wouldn't expect from an MBA, but it was because of the UQ MBA that we were all there.
"Other connections I met while studying impacted my career but not in the way I thought. I wanted to know if it was possible to have a family and be excellent at the work I'm passionate about, without feeling like I'm letting anyone down.
"Through the MBA, I was fortunate enough to meet women who had already forged that path. They were great examples and I was able to mine them for tips, which opened up everything for me.
"I didn't feel like I had to constrain my ambition or interest. I could see it was possible to find a way to make things work."
Learn more about how the UQ MBA supports women to achieve their career ambitions.
The MBA as a transformative experience
Camilla joined the MBA program to learn about business. She believes that the UQ MBA has had a significant impact on her career. However, she finds it challenging to quantify the exact extent of this influence.
"One thing that surprised me about the MBA was how much you begin to enjoy it," she said. "When most MBA students start, they worry about the workload and try to find ways to finish the program quickly.
"But once you get into it, you enjoy it so much. You start meeting so many people and apply your own personal ambitions to the assignments and suddenly your mindset changes. You start wondering how you can keep this new community around you because it's helping so much.
"During the MBA I realised having a positive impact that's really scalable is very important to me. Now, I'm less focused on the subject matter of the work I do. I'm more focused on finding opportunities for positive impact and scaling them.
"At the moment, that's mainly in the sustainability space in agrifood. But if I see an interesting, innovative company that wants to have a global impact, I want to help them. It's not a traditional 9–5 corporate role. But it's very fulfilling and exciting."