Study one of Australia's top MBA programs at a world-class Business School
Leadership isn't knowing all the answers, but asking the right questions. Question everything, except your potential.
What mark do you want to make? Whether you want to impact your company, the community or create change on a global scale, the Master of Business Administration (MBA) equips you with the skills, knowledge and mindset to succeed.
As a leader, you'll face complex challenges in a world where change is exponential. Our MBA gives you every opportunity to push the boundaries of your comfort zone and thrive under the pressure of exciting new territories. It will help you to better understand yourself and to pave your own path to a future with impact.
Globally, students are drawn to our MBA for the diversity of brilliant minds. What puts our students in another league isn't just their diversity, ambition or passion. It's their curiosity and relentless drive to ask 'why?' which leads them down new paths and ignites disruptive thinking.
Could a UQ MBA be your next move?
Where can a UQ MBA take you?
Request a suitable time for your friendly MBA team to call you. 
Request more information about our MBA program via email.
Solve The Business Problems Of Tomorrow
As an MBA student, you'll have the unique opportunity to work on industry projects with real businesses. Applying the knowledge from your classes, along with the guidance of our experienced mentors, you will help find solutions to the questions that keep CEO's awake at night.
Career Outcomes
The Master of Business Administration (MBA) is an applied, globally recognised masters degree designed to equip you with the sophisticated skills and knowledge required to become a successful business leader. The MBA is a powerful differential, giving graduates a career advantage in the highly competitive employment market.
The Cohort Effect
The network of connections you'll make is one of the most significant advantages of undertaking an MBA at the Business School. We attract students with varied and wide-ranging backgrounds making classroom discussions informative, entertaining and diverse.
Positioning yourself for success
Whether your goal is to accelerate your career or switch to another industry, our UQ MBA Career Resource Centre will help prepare you for a globally competitive employment market and will support your career advancement and transition. Our specialist career consultants will work one-on-one with you to explore and uncover your career aspirations and assist you in positioning yourself for success.
Your MBA Study Options
Our MBA program will test initiative, inspire resourcefulness, challenge creativity and demand your intellectual and emotional intelligence. The program can be undertaken in three different study options to suit your lifestyle.
Accelerated
Our MBA can be completed in 12 months full-time and is taught in intensive blocks between early January and November. International students are only able to complete the accelerated option.
Streamlined
The streamlined MBA program can be completed over 24 months alongside your work commitments and is structured to include some evening classes, weekend intensive classes and some one-week intensive mode offerings.
Flexible
We know you can get pushed and pulled in every direction, that's why our flexible study option allows you to structure the program to suit your personal needs. Our MBA program offers a personalised study plan that can incorporate weekday, weeknight and weekend study options. The program can be tailored around your work and personal life, making sure that you strike the right balance.
MBA Course Structure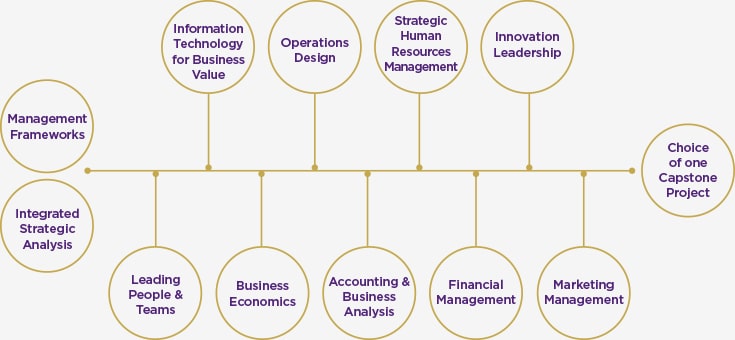 Short-term Global Experiences
UQ Abroad offers short-term international opportunities that are optionally available to MBA students. A short-term global experience is a two-to-five week optional program where you'll study at an international partner institution and receive credit towards a UQ program at the completion of the course, as approved by the Business School.
Social Economic Engagement Program
Today's businesses now place greater importance on their responsibility to society and are looking to generate sustainable profits. UQ Business School's highly successful Social Economic Engagement Program (SEEP) was developed especially for MBA students and offers the chance to put classroom learning into practice and make a lasting difference through working with community organisations.
Applicants for our MBA program must have four years full-time work experience post-graduation including at least two of the four years in a dedicated management role as well as:
Bachelor degree or equivalent with a GPA of at least 4.50 on a 7-point scale
OR Graduate Diploma in Business Administration from UQ or equivalent with a GPA of at least 4.50 on a 7-point scale 
International applicants must complete the Graduate Management Admissions Test (GMAT) with a minimum score of 550 and achieve at least 6.5 overall in the IELTS test (or equivalent test)
Applicants without a completed degree can apply on the basis of significant work and management experience.
No previous degree?
Students without the equivalent of an Australian Bachelor's degree are able to enter via the Graduate Certificate in Business Administration as long as they have at least seven years full-time work experience with at least three of those seven years in a dedicated supervisory/management role. Upon successful completion of the first four MBA courses and meeting the GPA entry requirements, students articulate into the Graduate Diploma in Business Administration. Successful completion of the next four MBA courses and meeting the GPA entry requirements allows for entry into the MBA program to complete the final four courses.
Still have questions?
Our friendly MBA Team is available 9.00am - 5.00pm Monday to Friday to answer any questions you might have.
Ready to apply?
Applications are open now.
To begin your MBA Semester 1, 2020 apply before applications close on Saturday 30 November.