Gone are the days of having to choose to further your education over maintaining a successful career or having a family. The University of Queensland (UQ) Business School's Master of Business Administration (MBA) recognises the importance of offering students flexible study options, so they can fit study into their life and around other commitments, not the other way around. With a UQ MBA, it is possible to advance your career while working and maintaining a social life.
What makes the UQ MBA program flexible?
True flexibility is about having the opportunity to choose how to fit study in with your existing commitments. It's also about having the ability to easily modify your timetable and program mode along the way. With a UQ MBA, you don't have to choose between either accelerating your career or focusing on your other life priorities.

Convenient central location
Enjoy the convenience and beautiful, modern facilities of our UQ Brisbane City location in the heart of the CBD. If you start your studies in 2021, you will benefit from our blended learning mode. This means you have the flexibility to choose whether you study in-person at 293 Queen Street or online via our live lectures and classes, or a mixture of both, depending on your schedule and priorities.
How long will it take to complete a UQ MBA?
At UQ, you can ramp up your studies through intensive courses to complete your MBA in just one year, choose our streamlined option to complete your studies around work commitments in 24 months, or adjust your study pathway as your priorities change. The amount of time you'll spend studying each week will vary depending on which study mode you choose.
The three ways you can structure your UQ MBA studies
1. Accelerated program
You can complete the MBA program in 12 months by studying full-time in intensive blocks between January and November in the same year. International students will need to complete the MBA using this option.
2. Streamlined program
Complete the MBA program over 24 months alongside your work commitments by studying during morning, evening or weekend classes as well as one-week intensive options.
3. Customised flexibility program
Study at your own pace on weekdays, weeknights, weekends or an array of short intensive options. You will have up to seven years to fully complete the program if needed. 
Here's how three of our students made the flexibility of the UQ MBA work for them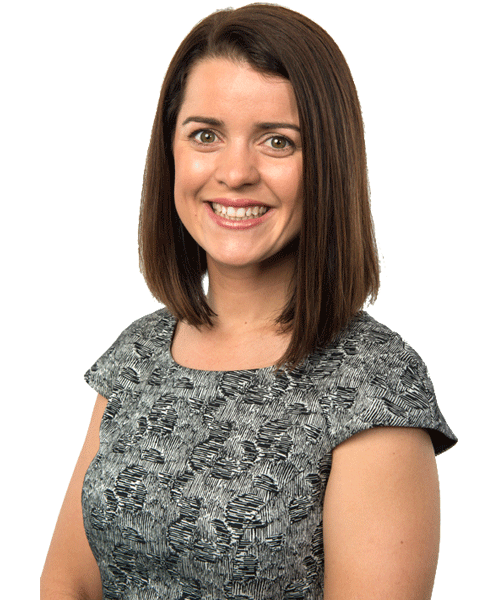 Helen: became a mum of two children while studying and maintaining a successful career
UQ MBA alumnus Helen Barker used the program's flexibility to her benefit to manage her parenting and work responsibilities while studying.
"I did half of my MBA before kids, the other half of the program after having kids. I had to bring my kid into class on weekend sessions and during my industry capstone course because my husband was FIFO (fly in, fly out), so was away every second week for seven days.
"Staff and students were very accommodating. Sometimes I'd be on mute in group meetings that went for three hours at night when I was doing the night-time routine with my children.
"I found the UQ MBA very flexible. There were lots of different study options, which meant I could finish it when I wanted to, and I didn't have to wait to do subjects.
"Although the time I had to spend on my studies after having kids was much more limited, it made me appreciate everything I learned that much more".
Rob: business owner, entrepreneur and dad of two
Rob Sutton is seven of 12 subjects into his MBA, runs his own business and is the father of two small boys. When asked how he has found studying with young kids and running his business, Mirragin, Rob says the flexibility of the UQ MBA has been critical.
"I'm a bit of a perfectionist, so I've had to learn how to let go and realise I can't do everything perfectly.
"I'm doing two or three subjects a year, which is a steady pace, but it's been good because it means I can fit everything else around my study and focus on what I need to get done in the short amounts of time I had available".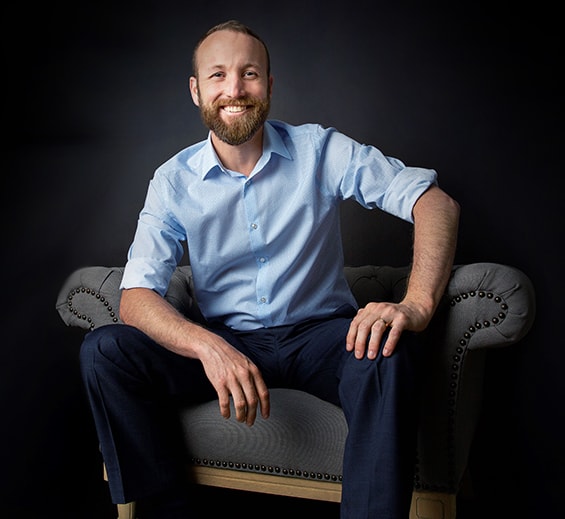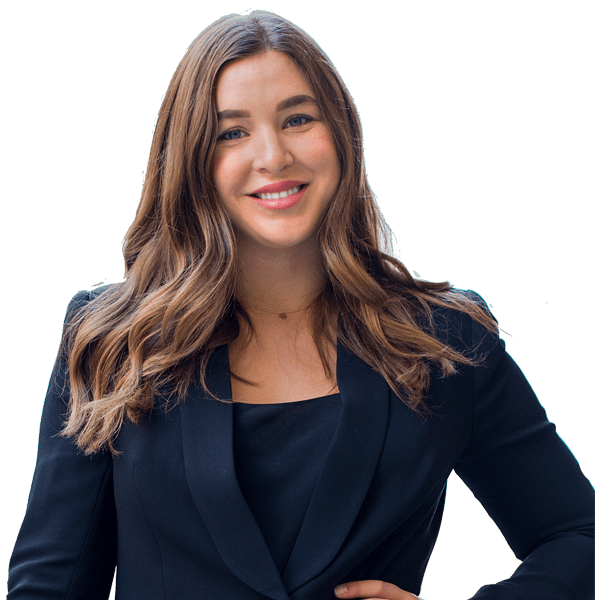 Margo: worked and studied full-time to complete the MBA in one and a half years
Margo Camus, on the other hand, is an example of someone who chose to complete her MBA studies in as short a time as possible, completing the program in one and a half years.
While working and studying full-time was definitely pressing at times, Margo found this option was right for her.
"I knew the sooner I completed it, the sooner I could use it.
"Juggling full-time work and study taught me what I was capable of", she says.
How might this work for you?
To further demonstrate how the UQ MBA program can be tailored to suit your schedule, goals and existing commitments, let's talk through two hypothetical examples of different UQ MBA journeys
Meet Tim, a full time UQ MBA student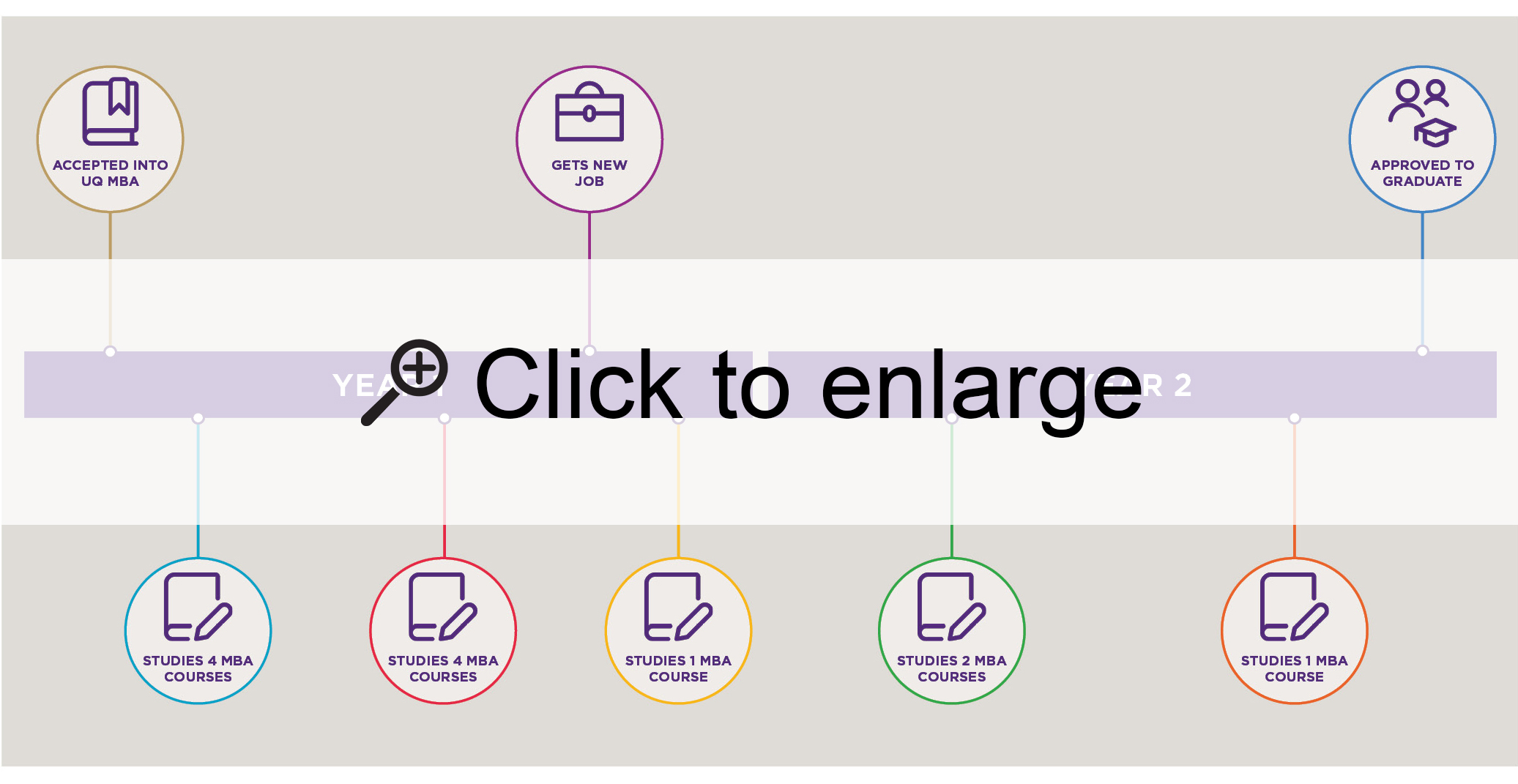 Tim is a 38-year-old who was working in the tourism industry and was made redundant during COVID-19.
He decided to make the most of the time looking for a new role by upskilling and completing the UQ MBA. He enrolled in the full time Accelerated study mode, studying four courses each semester in his first year. After his first year of study, he was recruited into an exciting new role at Rio Tinto in the oil and gas industry.
Tim chose to take advantage of UQ's Summer semester and completed one course during this time.
During his second year of study, Tim chose to swap to part time study, enrolling in two courses in Semester 1 and one course in Semester 2. Following this pattern, Tim was eligible to graduate at the end of his second year of study. In his final year, Tim applies for a promotion leveraging the fact that he will soon graduate from the UQ MBA and is successful!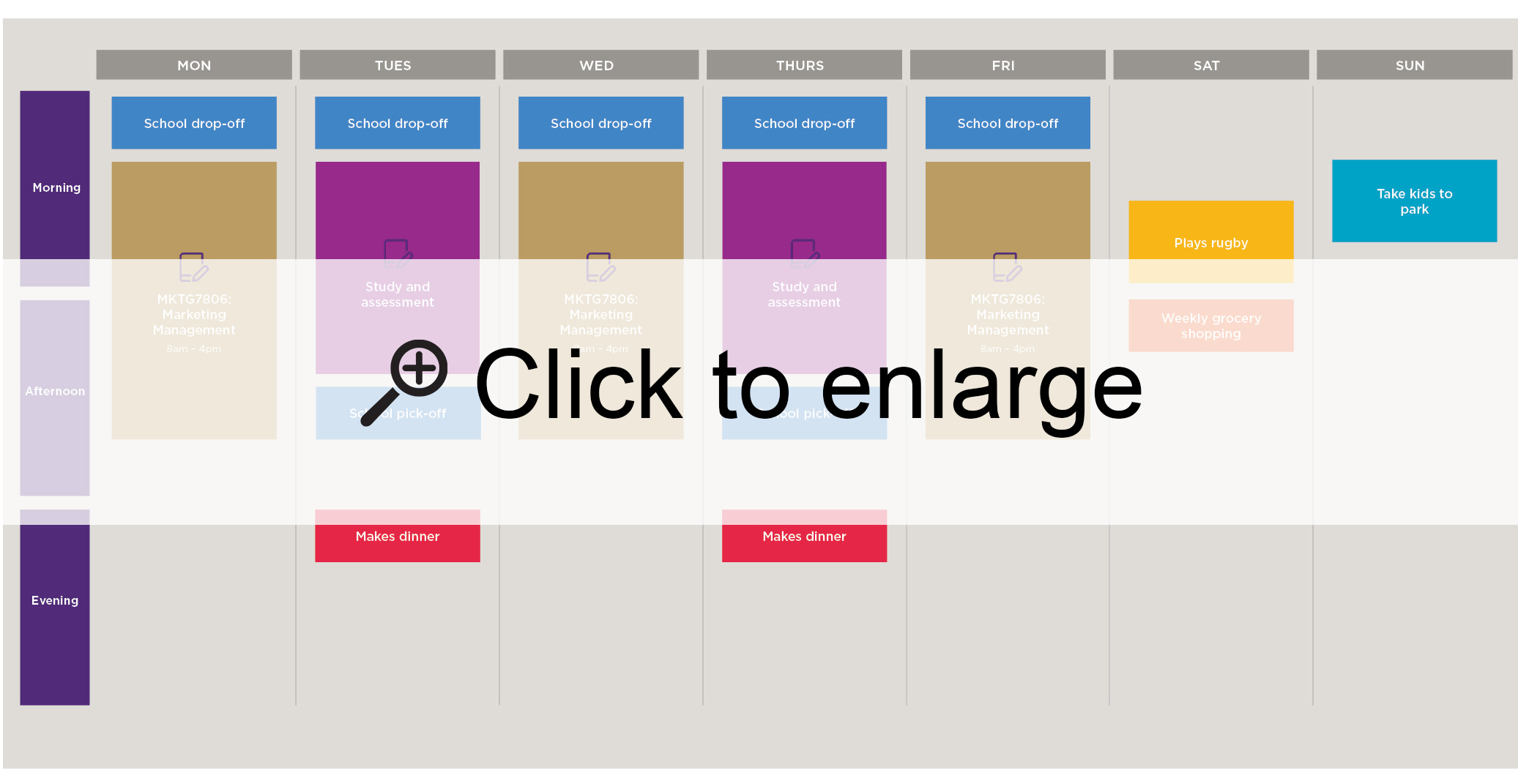 Here's an example of what a week for Tim might look like at the beginning of his degree, when he was studying full time.
He's married with two children, and is responsible for dropping of the kids to school Monday, Wednesday and Friday on his way into class. He is enrolled in Marketing and Management, which has classes three times a week all day. On Thursday Tim has time to study and work on assignments. This then gives him time on the weekend to play sport, go grocery shopping and hang out with his family. It's important to note that Tim's weekly schedule would change throughout each semester depending on when his courses are offered.
Now, meet Maya, a part time UQ MBA student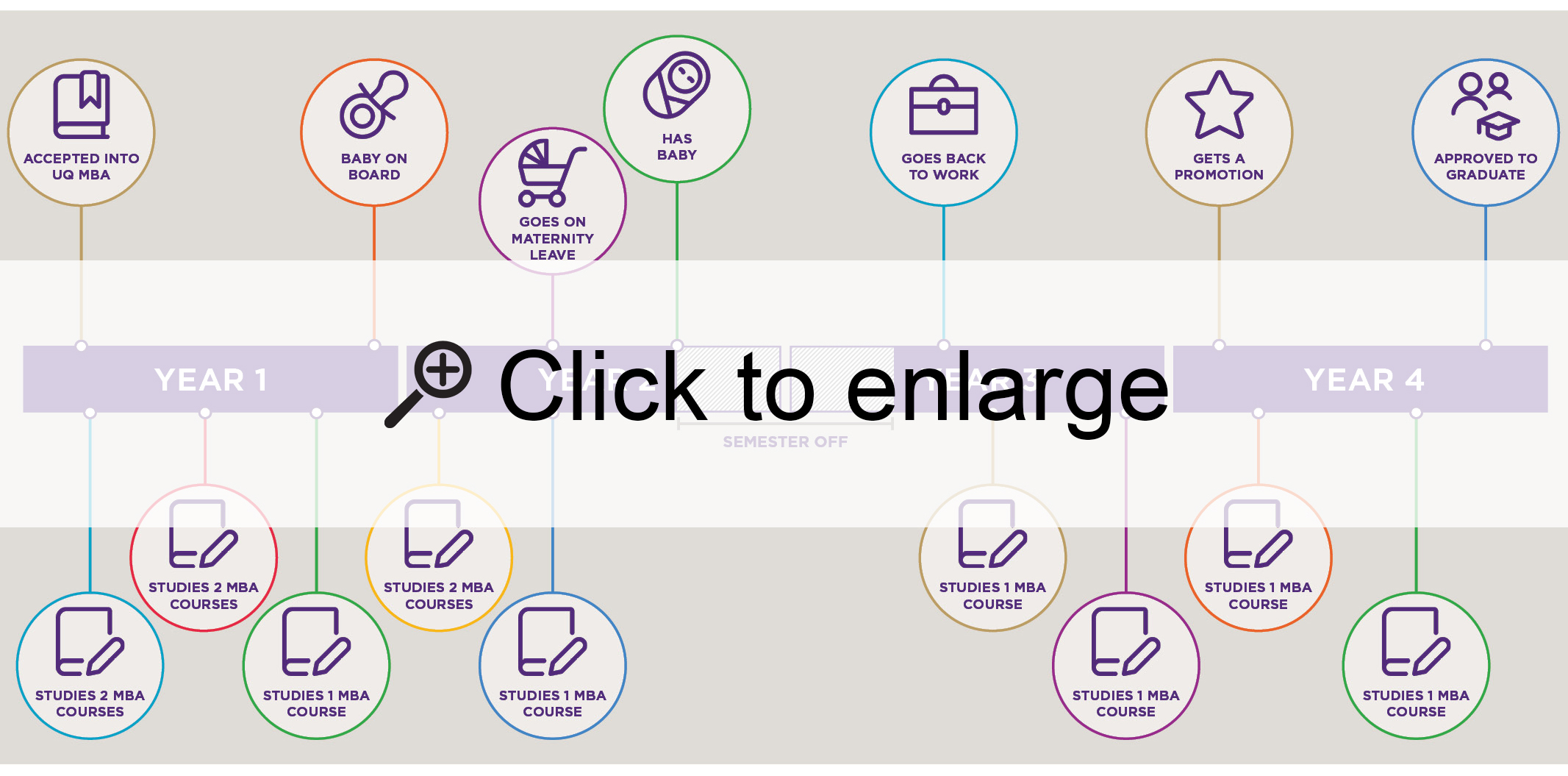 Once accepted into the UQ MBA program, Maya enrols in two courses for her first semester, which is a part time course load. Maya chooses this option because she works full time and isn't sure how she'll go balancing work with study. She's pleasantly surprised to find there are a good selection of courses she can take at night and on weekends, so class time doesn't cut into work time.
She also takes advantage of UQ's summer semester and completes one course during this time. Which is lucky, because over the Christmas break Maya finds out she's pregnant with her first child!
Maya continues to study two courses per semester until she goes on maternity leave from work. Then, she takes one course. Once she has her child, Maya takes the Summer Semester and first semester of the new year off.
Maya isn't sure how she'll go balancing being a new mum with work and study, so when she returns to work from maternity leave, she only enrols in one course each semester. She continues this pattern until she's approved to graduate at the end of her fourth year of study.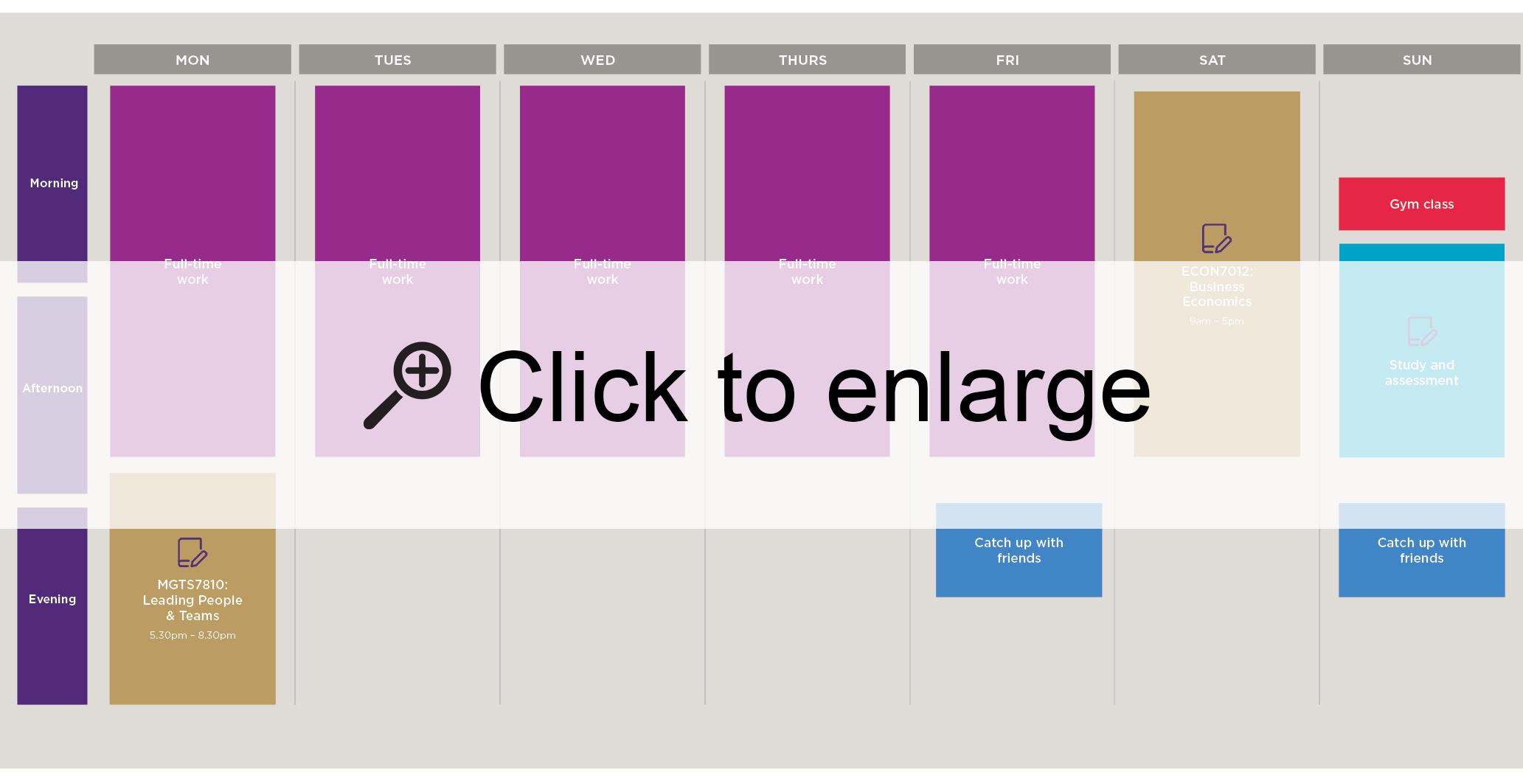 Here's an example of what a week for Maya might look like at the beginning of her degree, when she is working full time and studying part time. Because she is working during the day, she attends a night class between 5.30pm-8.30pm. She finds it easy to make it to class on time after work because she works in the city, which is also where her classes are. She also attends one all-day weekend class every Saturday, so makes the most of her Sundays by hanging out with her partner and friends.
With flexible study options to suit everyone's busy schedule and career goals, there's a UQ MBA timetable to suit you.
See how you can fit the UQ MBA in your life by requesting a call back from our MBA team