The University of Queensland is helping major organisations address climate change, after PwC and Boeing became the first employers in Australia to provide their workforce with the University's accredited Carbon Literacy training.
Thirty-nine workers from PwC Australia and Boeing Australia completed UQ Business School's Carbon Literacy Program – the first accredited training for corporate organisations in the country.
Former Program Co-Lead and Director for the United Nations (UN) Principles for Responsible Management Education (PRME) for the UQ Business School Dr Cle-Anne Gabriel said addressing the climate crisis through education was a strategic imperative for big organisations.
"For businesses such as PwC and Boeing, Carbon Literacy training provides a baseline understanding and introduces a common language across all functions of the organisation, not just the sustainability and ESG functions," Dr Gabriel said. 
"Carbon Literacy is poised to become an in-demand micro-credential across industries, especially for people who would not normally engage with climate issues in their everyday work lives."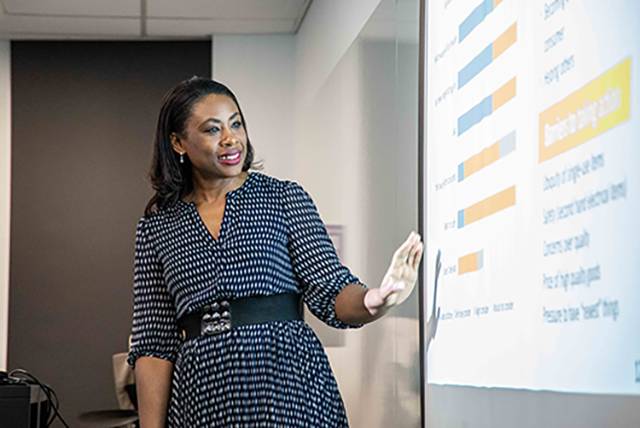 After completing the live online short course, employees underwent a pledge and assessment to become certified as Carbon Literate via the Carbon Literacy Project – a global not-for-profit organisation specialising in climate-action training that has certified more than 26,000 people worldwide.
PwC Australia Social Impact Director Louise Halliwell said building individual and collective climate knowledge was important for PwC's people, clients and communities.
"We all have a role to play in emissions reduction and the UQ Carbon Literacy Program helps bring that to life," she said.
"We were delighted to provide this opportunity for our people, who are now carbon literate champions for climate action across our firm.
"This training supports our firm's focus on environmental sustainability and will help us to achieve our worldwide science-based commitment to achieve net-zero greenhouse gas emissions by 2030."
Boeing's Regional Sustainability Lead for Australia and New Zealand, Heidi Hauf, said equipping staff with a holistic Carbon Literacy across business units was vital in helping Boeing Australia reach their long-term sustainability goals.
"These goals include the commitment that our commercial airplanes will be capable and certified to fly on 100 per cent sustainable aviation fuel by 2030," she said
"The Program also builds on our long partnership with UQ, developing technologies and innovation that advance Boeing's sustainable aerospace engineering and manufacturing."
Media:  Dr Cle-Anne Gabriel, c.gabriel@business.uq.edu.au, +61 (0) 481 596 939; Boeing Australia, Natacha Dobrovolsky, natacha.dobrovolsky@boeing.com,  +61 (0) 422 679 247; PwC, Patrick Lane, patrick.lane@pwc.com, +61 (0) 437 884 010.