This inaugural report highlights UQ Business School's commitment to the United Nations Principles for Responsible Management Education (UN PRME).
This report shows there is already significant alignment between UN PRME and UQ Business School. We acknowledge, however, there is always more we can do. As responsible management education is a high priority for the School, we look forward to enhancing our endeavours and delivering even greater sustainability outcomes for students, staff, and the wider society.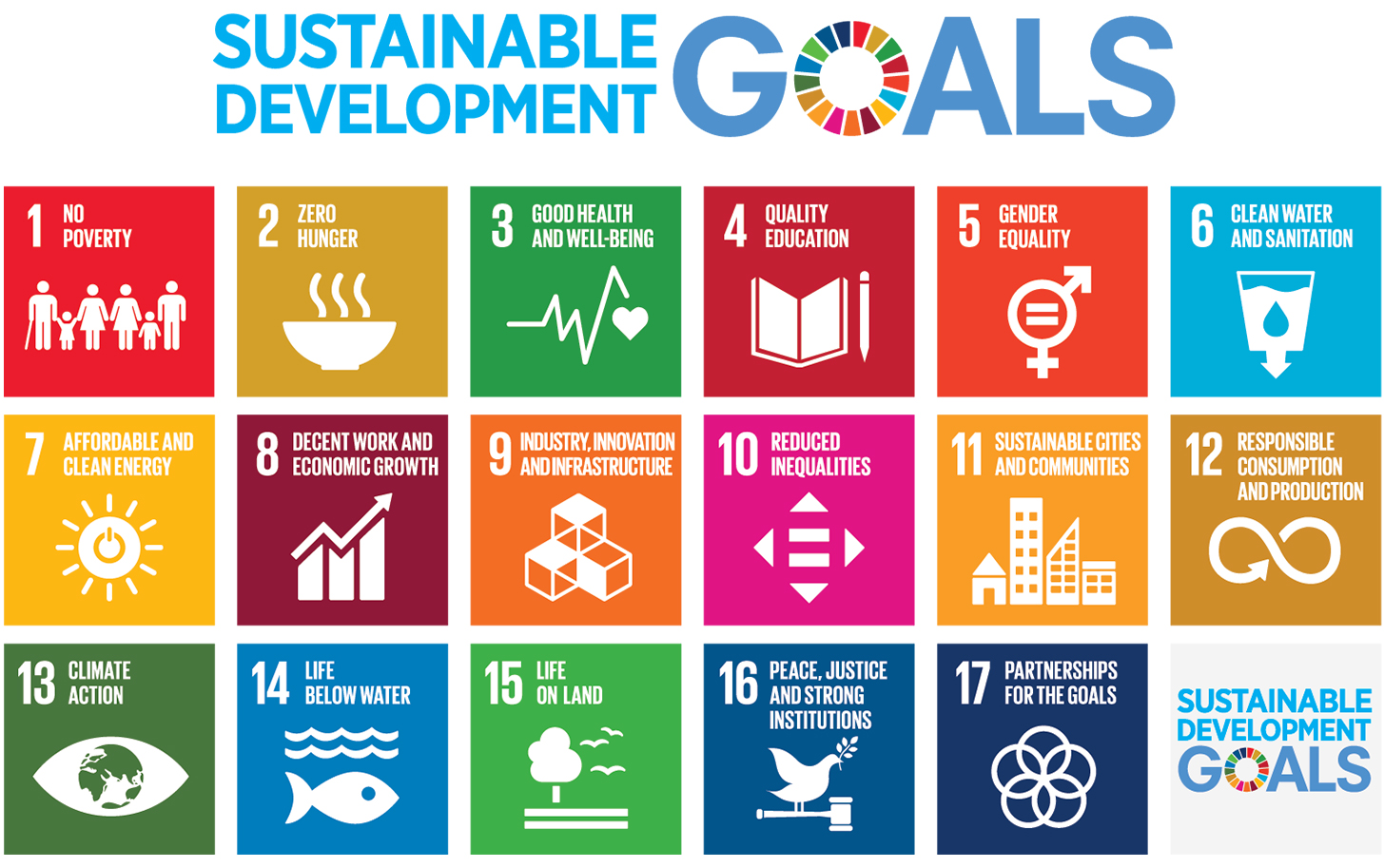 UQ Business School is a proud supporter and Advanced Signatory of the United Nations Principles for Responsible Management Education (UN PRME). PRME is an initiative of the United Nations Global Compact founded in 2007 as a platform to encourage and increase awareness and integration of sustainability in business schools around the world.
Today, PRME is the largest coordinated effort between the world's business schools and the United Nations. UQ Business School became a PRME signatory in 2015. As a school, we understand the privilege and responsibility of providing quality education that gives learners the knowledge and tools they need to succeed, change lives and transform societies.
"The PRME initiative was launched to nurture responsible leaders of the future. Never has this task been more important. Bold leadership and innovative thinking are needed to achieve the Sustainable Development Goals."
Antonio Guterres, United Nations Secretary-General
Principle 1: Purpose - Responsible Management Education
"We will develop the capabilities of students to be the future generation of sustainable value for business and society at large, and to work for an inclusive and sustainable global economy."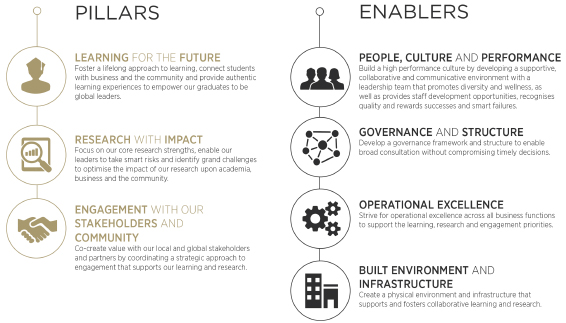 The values embodied in the Business School's vision and mission have created the conditions for courageous thought leadership on responsible management education and practice.
At the Business School, we present our priorities as three pillars of our core business and four enablers. Within each pillar and enabler, there are opportunities to foster and enhance our responsible management education and practice.
Principle 2: Values - Curriculum
"We will incorporate into our academic activities and curricula the values of global social responsibility as portrayed in international initiatives such as the United Nations Global Compact."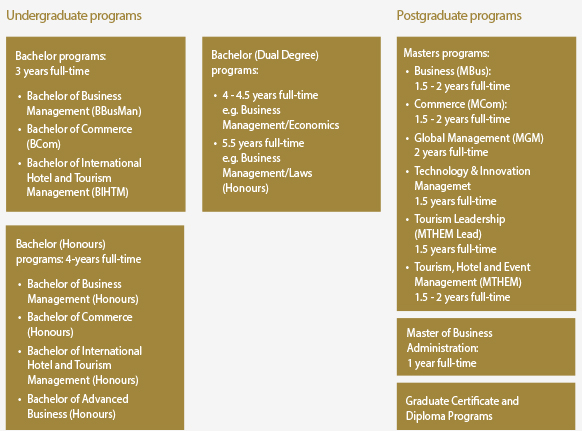 The Business School offers a wide range of programs and flexible study options including our renowned MBA.
Upon becoming a signatory of UN PRME, the Business School engaged in an extensive Curriculum Review to assess the current implementation of responsible management education in the School.
The PRME Curriculum Review forms the foundation for future curriculum development, along with other curriculum reviews that UQ Business School undertakes frequently as part of innovation and improvement endeavours as well as its accreditation requirements. The full findings of this review can be found in the report.
Principle 3: Methods
"We will create educational frameworks, materials, processes and environments that enable effective learning experiences for responsible leadership."
UQ Business School adopts a number of assessment and learning models that enhances the learning experience and accessibility of our programs. Some of learning and assessment approaches are highlighted below:
Experiential Learning
Case Studies - UQ Business School staff have developed a strong case-based learning approach to teaching as a means for students to understand the ethical complexities associated with particular issues. This enables a deep level of learning as students employ critical thinking, communication and collaboration skills to balance multiple perspectives and achieve sustainable outcomes for all stakeholders.
Simulations - By combining conventional learning methods with practical learning tools such as simulations, UQ Business School is able to instil the core principles for responsible management at a deeper level.
Active Learning
We believe the retention and level of practicality our students arrive at is more significant with active learning. The opportunity for our students to have hands on practical experience with the various principles guides their development in becoming leaders and managers with responsible management as their foundation.
IMPACT Social Enterprise
IMPACT is a student-run organisation that delivers world-changing social enterprise education. IMPACT creates experiences that set up young change-makers with the know-how and network required to translate their ambitions into social impact.
Blended Learning
Massive Online Open Courses (MOOC) offered by edX:
Tourism & Travel Management MOOC
MicroMasters Courses offered by edX:
Business Leadership
Leadership in Global Development
Corporate Innovation
Sustainable Energy (not offered by UQ Business School)
Principle 4: Research - Advancement of common good
"We will engage in conceptual and empirical research that advances our understanding about the role, dynamics, and impact of corporations in the creation of sustainable social, environmental and economic value."
World-class research emerging from the Business School attracts significant international and national recognition and funding. Strategic collaborations within and outside the School leverage interdisciplinary research strengths to transform business and society. Many Higher Degree by Research students are actively pursuing research topics relevant to PRME. 
Corporate Sustainability - Decarbonisation, Climate Change & Natural Resources
Capital Markets - social and environmental performance and measurement
Social Impact & Entrepreneurship
Tourism - climate impacts
Principle 5: Partnerships - Joint approaches to sustainability
"We will interact with managers of business corporations to extend our knowledge of their challenges in meeting social and environmental responsibilities and to explore jointly effective approaches to meeting these challenges."
The Business School has many significant interactions with industry managers and their corporations, our success in Executive Education, and many other initiatives beyond the classroom, which further reiterate our commitment to PRME and transforming business and society.
Beyond the classroom
180 Degree Consulting
Enactus at UQ
Social Economic Engagement Program (SEEP)
MBA International Immersion
Pro Bono Econos
Principle 6: Dialogue
"We will facilitate and support dialog and debate among educators, students, business, government, consumers, media, civil society organisations and other interested groups and stakeholders on critical issues related to global social responsibility and sustainability."
An important part of empowering courageous thinkers and future leaders is to seek dialogue with a variety of internal and external stakeholders, UQ Business School does this through a range of specific initiatives:
UQ UConn CIBER Sustainability Program
Industry Think & Drink events
Media publications and comments
Public lectures