Each day for Benjamin Wiltshire is never the same. The University of Queensland Business School alumni works at Citi as an APAC Rates Trading Desk Strategist – it's busy, fast-paced and steeped in responsibility, but Benjamin loves the challenge of his rising career.
"It is a steep learning curve, and working on a trading floor means no day varies a lot from the next, which makes it very enjoyable," says Benjamin.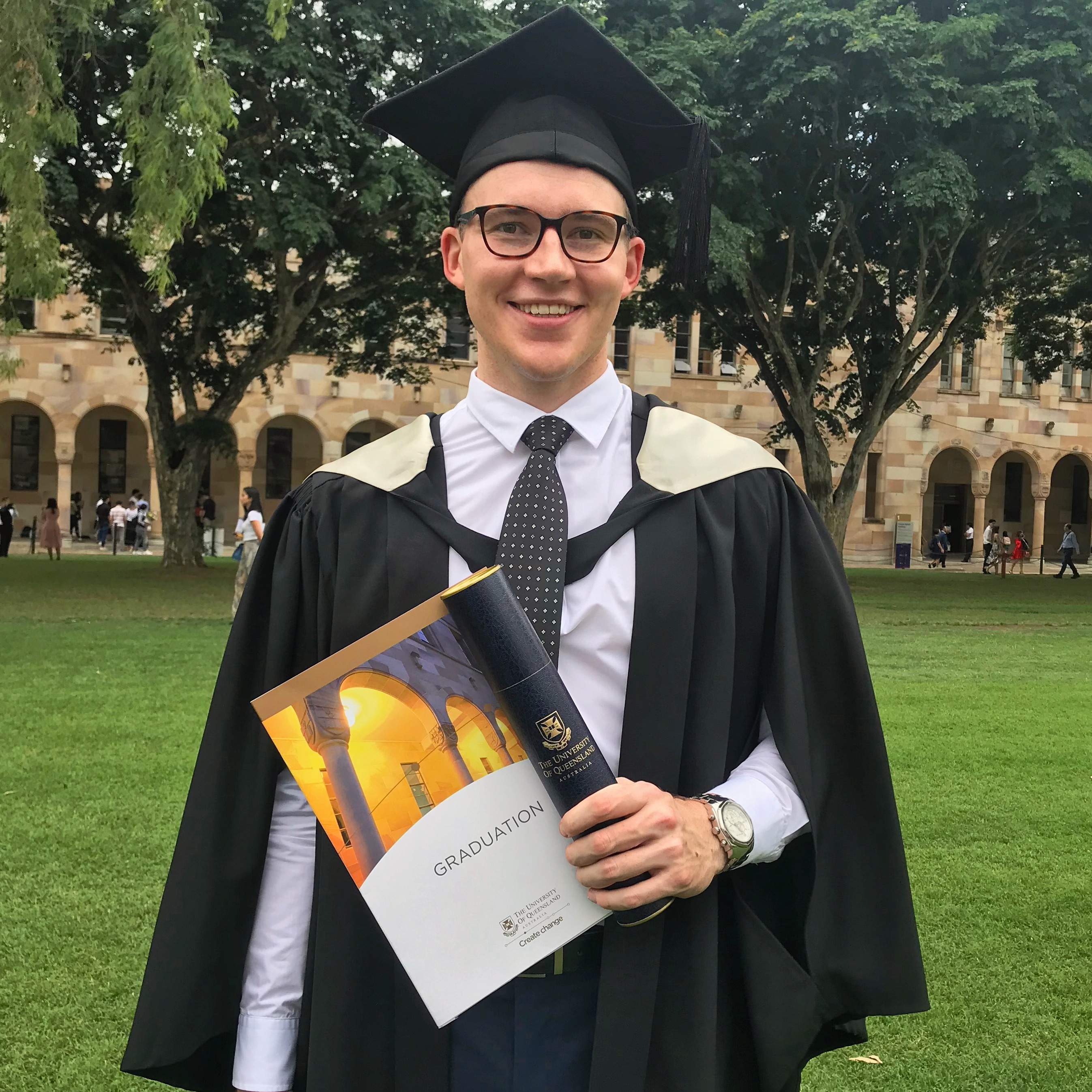 When Benjamin reflects on what it's taken to get him into his dream gig, he pinpoints a very important part of his academic journey – studying an honours degree.
While many of Benjamin's peers entered straight into the workforce after graduating from their undergraduate degree, he decided to take his studies further, to leapfrog his chance of employability to top companies in a competitive area. It was also an excellent opportunity for him to put his studies into practice.
"The honours year program is quite different from undergraduate studies – it actually has a more practical perspective to its learning," says Benjamin.
In fact, Benjamin enjoyed his honours year studies so much, that he became class valedictorian and landed an internship at Citi, which has now turned into his dream graduate role.  
Benjamin shares why a year of honours study has been invaluable to his career helping to build networks, contribute to entirely new research and honing his skills as an analyst.
What made you want to undertake a year of honours study?
The appeal of undertaking another year of study to do an honours degree was driven primarily by two factors. First, the opportunity to spend a year researching and writing a thesis on a topic of interest, under the guidance of world-class academics was a strong selling point.
Second, the course work and assessment outside of thesis work was quite different from undergraduate studies, it had a very practical approach.
Both of these factors, coupled with the opportunity to develop new skills, such as coding and data analytics, as well as further build networks, is why I opted to undertake honours study.   
How did undertaking a thesis help grow your industry knowledge and connections?
The research and analytical skills I developed through writing my thesis, and the knowledge I gained during my honours year have been invaluable in my current job as a Global Markets Analyst. It also enabled me to build connections both in industry and academic circles.
How does the knowledge and skills you learnt from your honours help you on a day-to-day basis in your current job?
Doing an honours degree was one of the best investments in personal and career growth that I have ever made, the extra year of study is worth it in my opinion.
There are three advantages for my career that honours study provided. First, research is a significant part of my job as an analyst and the skills I developed from coding to research methodology throughout my honours year have been extremely valuable.
Second, a large proportion of course work in my honours year revolved around critical thinking. Not just a critical analysis of existing research, but taking it a step further by proposing alternative and improved methodologies. We also had the opportunity to do this face-to-face in research seminars with authors on their current work.
Third, communication is very much a differentiator in my line of work – I need to be able to communicate research findings, issues and approaches. The heavy presence of publicly presenting our analysis and research, and frequent Q&A sessions in our own presentations were highly valuable.
Was there a good sense of support and community between yourself and your other honours classmates?
The small cohort of likely minded ambitious students meant we all gelled very quickly and helped each other out throughout the year.
We very quickly formed a strong support network and would socialise frequently outside of university. After my honours year study was completed, I travelled throughout Europe with a fellow class member. It has been over six months since the honours year has concluded and we are scattered all across Australia and even the globe, however, we still remain very close. 
How did your honours help you get your current job?
The prospect of an honours qualification assisted me in securing an internship with Citi, which led to my current graduate role.
My interest in completing an honours program, and willingness to spend another year of at university instead of pursuing an industry role, was a tangible demonstration of my interest in finance and analytics. It helped differentiate myself from other candidates.
Originally published 30 July 2019.
---
View the Honours Information Webinar recording 
Hear from the Honours Program Leader, a current student, and alumni on what you can expect as an honours student.