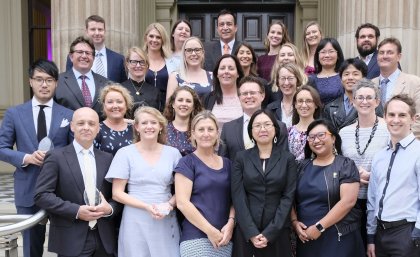 The University of Queensland's annual Teaching and Learning Awards celebrated excellence, creativity and innovation at Brisbane's Customs House on 29 October.
Deputy Vice-Chancellor (Academic) Professor Joanne Wright said the awards recognised the important work of teachers in shaping students and building their opportunities to make a positive difference across society.
"Teachers are key to students getting the most from their university experience, and it is an absolute joy to see the outcomes from UQ teachers and students working together," Professor Wright said.
Professor Wright noted that the digital revolution had transformed the teaching profession "in a few short years".
"Teachers are doing a magnificent job in adapting to that and in thinking in new ways about their students' education," she said.
"We see many examples of this among our award winners tonight."
Faculty of Business, Economics and Law (BEL) Associate Dean (Academic) Professor Polly Parker commended the members of the BEL learning and teaching community who were honoured for their work.
"It's wonderful to see so many of our teachers recognised for transforming the learning experience of our business, economics and law students," Professor Parker said.
"For some, the focus is on using technological innovations to improve student learning and outcomes. For others, it's all about embedding entrepreneurial activities and work-integrated learning experiences into their courses to enhance student employability.
"Whatever their chosen method, our world-class BEL teachers work hard to inspire our students and ensure they graduate with sought after and globally relevant knowledge and skills."
UQ Teaching and Learning Week 2019 provides opportunities for the UQ community to learn from one another and to celebrate creative and innovative teaching practices designed to enhance student learning.
This year's workshops, panels, and other interactive sessions are highlighting UQ's excellent teachers and tutors, initiatives, and teaching and learning leaders around the theme of "Creativity".
BEL Faculty winners include:
UQ Awards for Teaching and Learning Excellence
Citations for Outstanding Contributions to Student Learning
Commendations for Outstanding Contributions to Student Learning
---
UQ Higher Education Academy Fellowships 2019
Senior Fellows
Fellows
---
2018/19 Australian Awards for University Teaching (AAUT)
Awards for Teaching Excellence
Read more: Kudos for our top teachers at national awards
---
See the full list of winners from the 2019 UQ Awards for Teaching and Learning Excellence.
Media: BEL Communications, media@bel.uq.edu.au, +61 7 3346 9349