"Fake it until you make it!" It's a mantra you've probably had to put into action at some point during your career – whether you had to fake confidence to get through a presentation or project self-assurance when stepping into a new promotion. But what happens when you just can't shake the feeling of self-doubt? You may be dealing with imposter syndrome. The encouraging news is, you're not alone.
As digital disruption becomes more complex and the shocks of the pandemic continue to shake business, imposter syndrome is on the rise. According to a LinkedIn survey of C-level executives during the pandemic, 72 per cent felt anxiety and self-doubt by not having all the answers, evidence that imposter syndrome can strike at any point in a career.
What is imposter syndrome?
According to management expert at The University of Queensland (UQ) Business School, Dr Terry Fitzsimmons, imposter syndrome is inextricably linked to self-doubt and low self-esteem.
"People who have imposter syndrome regularly question the validity of their achievements, often attributing career progression to luck rather than skill," says Terry.
"Imposter syndrome makes people excessively uncomfortable with receiving promotions and rewards since they believe they are unworthy of these accolades – they see themselves as frauds who will one day be 'outed'."
 "Sufferers tend to place excessive pressure on themselves to maintain the façade, manifesting in higher than normal levels of perfectionism and working excessively long hours."
Why do people at an executive level still experience imposter syndrome?
 
While it may seem misplaced to reach the pinnacle of corporate life and still have a feeling that you don't deserve to be there, it's more common than you think, according to Terry.
 
"One reason why imposter syndrome is prevalent even at an executive and C-suite level is that it tends to affect those with higher levels of ability and these people are more likely to reach higher positions."

"This cohort strike for perfection and the next career level, but feel anxiety and a sense of fraudulence when they achieve it," says Terry. 

"I was shocked when conducting research, by the number of highly successful female CEOs who spoke of 'lucky breaks' or 'being in the right place at the right time' when explaining their career trajectory compared to the male CEOs I interviewed.

Three professionals from executive, research and venture backgrounds share when they've experienced imposter syndrome and their top tips to overcome it.
Develop critical leadership skills to respond to an ever-changing business landscape with a UQ MBA.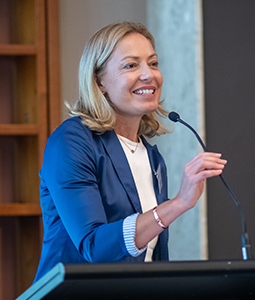 Associate Professor Sarah Kelly, non-executive director, The Minerva Network State Leader and research leader, UQ Business School
The vivacious researcher, director, board member and mum of four would be considered by many at the top of her career game. But despite touted as one of the best in her field internationally, influencing national policy, leading a major research hub on Trust, Ethics and Governance at UQ and being a portfolio non-executive director for many high-profile organisations, Sarah isn't immune to imposter syndrome.
"Sometimes imposter syndrome strikes when I am requested to give a keynote to a new or large audience or am thrown into a scenario where I have no idea how I have ended up there, often at short notice," says Sarah.
"Self-doubt and uncertainty creep in – I best describe it as a feeling of not belonging."
"Imposter syndrome can also take grip when I'm around people I hold in high regard, whether from elite sport or business. I question why they are seeking my advice, but I have to remind myself, through self-talk, that there is a reason, and that I do have the credentials."
Sarah notes that she's not the only one of her peers to experience imposter syndrome.
"Friends and colleagues of all ranges of experience and across diverse backgrounds, including those I greatly respect and admire, have mentioned feeling imposter syndrome at different points in their career. Mostly female colleagues, although I suspect male colleagues also experience it."
Turning the feeling into a positive is how Sarah copes with imposter syndrome. "If you're constantly challenging yourself, then you are bound to feel self-doubt at some point. If there is no discomfort, you're not developing or living – a healthy dose of humour is the best tool to cope."
Leigh McBean, Head of Legal Finance, Australia, Plenti and MBA alumnus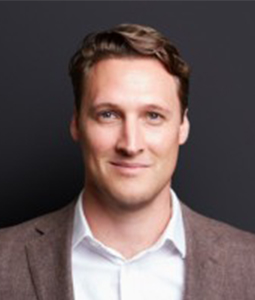 Former professional athlete turned lawyer, Leigh McBean, has held a series of high-pressure management roles throughout his extensive career and following his MBA. But that doesn't mean he has been immune to experiencing feelings of self-doubt or like an imposter in his role.
"I remember being pulled out of an existing role and assigned to a major distribution centre that ordered goods and sent them across the state in bulk," reflects Leigh.
"I was asked to map the warehouse layout, the path of the forklifts, how the pickers received their instructions, the stock placement on the shelves, the loading of the orders into containers and then manage the logistics with the drivers, yet I had no relevant experience at the time.
"On my first day I remember going into the bathroom feeling quite ill and very much like an imposter who would be found out as someone who knew not much at all! It was outside my comfort zone, I felt like I was in the wrong place and that someone had made a mistake."
Leigh remembers how he dealt with the overwhelming discomfort he was experiencing. "I acknowledged the feelings, firstly, and took a big breath."
"I thought about why I was there – it was partly because I had no experience in those areas that I was asked to do the role because they specifically wanted a fresh perspective from someone who could ask good questions and build rapport with people. So, reframing my own thoughts helped the feelings subside somewhat." 
"The key is getting out of your own head and recognising that you have value to add."
Runali Maniya, SDG Impactors Founder and Master of Business alumnus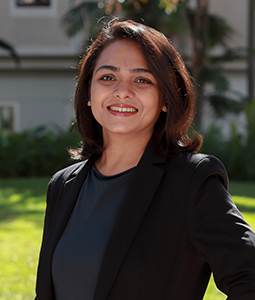 Runali Maniya came to Australia as an international student from India with seven years of professional experience. But when she arrived, she struggled to find work, despite applying for thousands of jobs.
"I was so tired of applying for jobs that I took a three-month break and started volunteering to teach English to refugees," says Runali. Several roles she secured ended after only a few short months. 
"Every time I got a job was through my connections", she says. Then, six months after she graduated from a Master of Business at UQ, she interviewed for an exciting new career prospect, only to be disappointed again when COVID-19 hit, and she was told the company was no longer hiring.
The process was exhausting, and it took a toll on Runali's self-confidence. As an international student, an entrepreneur and a migrant woman, she often experienced self-doubt.
"When I experienced imposter syndrome, I often wondered 'is it me, or is it the circumstances I find myself in?' I questioned whether my skills and experience would ever be enough in this new country."
Throughout this experience, Runali has learned to be resilient, and her commitment to creating positive change remains. She found her strengths during the pandemic, and is now a successful entrepreneur, having recently launched SDG Impactors, a t-shirt company raising awareness of the United Nation's 17 Sustainable Development Goals.
Her advice for others facing similar challenges is "You are allowed to be tired; you are not allowed to give up."
Top tips to overcome imposter syndrome
 
1. Acknowledge the feeling
Sarah says taking in the feeling of imposter syndrome is important. "Acknowledge it and accept it as part of developing your skills, confidence and character, because it signals that you are stepping outside your comfort zone, which is where you develop and grow."
2. Practice positive self-talk
"Self-talk is important", Sarah says. "You might feel surprised to be thrown into a scenario in which you feel you don't belong, but the fact is someone has asked you to be there, so rise to the occasion and learn from it."
Runali agrees, "Don't feed into negative self-talk. Your mind is a like a garden. You can choose to grow a flower or a weed, by deciding which you nurture."
"It can help to practice mindfulness. Give ink to your thoughts! Pen down everything that you feel. Silence is not the key if you want to address this feeling."
3. Reframe the situation
Runali says, "Focus on what you can do, instead of what you think you can't do. All of us can do much more than we realise and give ourselves credit for."    
Sarah agrees. "Turn it around and accept that imposter syndrome can be a positive force you can channel the nervous energy into to do the best job you can in any scenario."
Leigh adds, "It helps to remember that people don't know what is inside your head, and they don't know what you have or haven't done before."
4. Find a mentor
Runali imparts, "Always have a mentor. Find a mentor who will challenge you and push you outside your comfort zone."
Terry agrees. "Sharing fears of the future and how these might be addressed one on one with an executive coach or a mentor is an important way to deal with imposter syndrome ."
5. If you're a leader – address imposter syndrome with employees
Dr Fitzsimmons says, "External validation of skills by trusted institutions, colleagues or superiors is critical."
"Employers also need to understand and communicate that imposter syndrome, in its mildest form, is shared by nearly everyone from time to time. Understanding that can be a first step for those who suffer from more extreme forms. This will help those who suffer from imposter syndrome to more readily and safely engage with their peers on the topic."
Terry acknowledges, "the COVID crisis has created greater uncertainty about the future and placed greater pressures on business leaders, necessitating learning new ways of communicating and managing."
"It's important for leaders to recalibrate to draw a realistic vision of the future and what skills professionals will need to address it to help keep imposter syndrome under control."