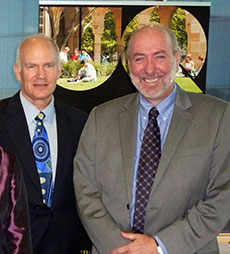 A fellowship with aims to establish international research partnerships has helped turn UQ Business School into an international powerhouse for tourism research.
Now in its fifth year, the W. James Whyte Visiting Research Fellowship has enabled tourism researchers to cement professional relationships with their counterparts across the globe.
This unique program was developed exclusively for tourism within UQ Business School by Professor Roy Ballantyne and Adjunct Professor Jim Whyte, an entrepreneur with 45 years' experience in all areas of the travel industry and an Oregon State University graduate.
Mr Whyte said that the fellowship recognises the importance of tourism and its effect on the global economy.
"The fellowships' main aim is to establish worldwide research partnerships with academic tourism staff. The joint research projects lead to the submission of co-authored, high-quality academic research articles as well as external, competitive grant submissions, which further expand the program," he said.
Participating researchers have been able to work together to achieve impressive outcomes, such as articles in top journals and over one million dollars in additional grants, including prestigious Australian Research Council (ARC) grants.
UQ Business School Tourism Cluster Leader, Associate Professor Brent Ritchie said that the fellowship has delivered countless benefits to tourism staff as well as the visiting academics and the travel industry.
"It has propelled our work onto the global stage, and helped nurture relationships with leading researchers which will continue well beyond the fellowship.
"2014 is shaping up to be one of the busiest years since the inception of the fellowship, with more than a dozen, internationally-renowned tourism researchers making the journey to UQ from countries such as China, Hong Kong, London, Denmark, Canada and the USA over the course of the year," Associate Professor Ritchie said.