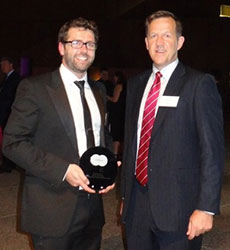 UQ Business School final year PhD student, Paul Newbury, was recently named as a 'Student Mentee' at the 2014 Advance Global Australian Awards, held at the Sydney Opera House.
The Advance Global Australian Awards celebrate Australians living overseas, and who are innovators in the fields of clean technology, biotechnology, ICT, advanced manufacturing, mining, creative industries, or financial services. The awards provide future leaders, who are in their final year of university, the opportunity to receive personal mentoring from globally renowned experts.
Paul was selected in the student 'Clean Technology' category based on his ideas on how Australian firms and academic institutions can take a lead role to fast track the electrification of developing countries. He will now receive 12 months of one-on-one mentoring from Andrew Tanner, a leading clean-tech entrepreneur based in the Silicon Valley.
Paul said that he was thrilled to receive this award. "It's an exciting time and a great opportunity to work with the absolute best people in the world on a topic I am passionate about." 
Professor Andrew Griffiths, Dean of UQ Business School, said: "It is wonderful to see one of our students nationally recognised as a potential future leader in their field. This award highlights the high level of international interest in Paul's research, and we congratulate him on his great achievement."
As a result of Paul's research, the World Bank in Washington have invited him to visit and discuss his ideas for an international research collaboration involving the World Bank, Harvard-Kennedy, Oxford, Cambridge, and INSEAD.
Paul has over 15 years industry experience in senior positions within ENERGEX Limited, and currently works as a UQ Research Assistant in the areas of electricity supply, sustainable energy futures, and coal seam gas. 
Check out a full overview of the 2014 Advance Global Awards ceremony