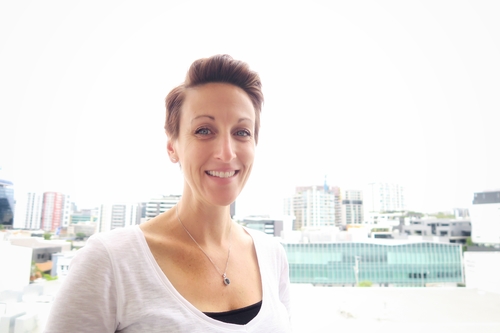 She is probably the only customer experience specialist whose previous roles have included performing autopsies and pretending to be a terrorist.
Jamie Ford's remarkable career transition has seen her move across disciplines and across the world. The former US scientist has finally found her ideal job – as head of customer experience at UnitingCare Queensland, where she is committed to improving the health and wellbeing of all Queenslanders.
It's a long way from her roots in Ohio where, as the daughter of two scientists, she chose to study microbiology but subsequently 'bounced around a lot trying to find a home'. Over a ten-year period she worked in laboratories, in pathology departments and with a US government contractor carrying out research into bioterrorism. The problem was, laboratory life was a bit too solitary for someone with an outgoing personality.
When the oil and gas company Petronas offered them contract work in Malaysia, she and her husband Jerad, a fellow scientist, decided to make the move. Jamie soon found herself taking a wider role in laboratory management. It was her first experience of business and it felt good.
When their contracts came to an end, the Fords took time out to study. Jamie did a full time Master of Business Administration (MBA) at UQ Business School and after several years in management consulting, she landed her current role.
Given her experience, she is a strong advocate of career transition for those who feel they are in the wrong job. "If you have a feeling in your gut that you are not right for the job, if you are not passionate when you wake up in the morning, it's time to move," she says.
So what can others learn from her journey? She has the following advice:
Be willing to take risks
"You need to be comfortable with ambiguity and be willing to make the move without knowing what the outcome will be. When I did the MBA I had no idea what the end game was going to look like and when I landed my first contract, I was scared out of my mind!
Be open to learning about yourself
"I realise now that, working in laboratories, I was an extrovert in an introvert's role. Microbes don't talk back to you! My forte is helping people to solve complex problems, and I use my background in scientific research methods to help me do that.
"I chose to do an MBA because I really wanted to understand my value in a business context. In the UQ program, there is a focus on connecting into who you are which was aligned with the journey of self-exploration I was on."
Find someone to share the journey
"Have somebody you trust who can help you and can share the experience. My husband Jerad took a PHD in business and innovation at the same time so we had to read the same type of literature and went through the learning journey together. We continue to challenge each other."
Build your networks
"Don't underestimate the power of networks and your personal brand. As I'd come from a different sector and a different country, I didn't know how business operated in Australia. When I joined EY as a consultant after completing the MBA, there was no recognition of my previous consulting work because it in science and not business. I had to build my networks and learn how things worked."
Be patient
"A career change or an MBA is a long-term game. Even after the first year I couldn't see the value but now five years in, I realise it was a game changer for me. It's given me an amazing opportunity to improve the lives and wellbeing of Queenslanders – it was best decision I ever made.