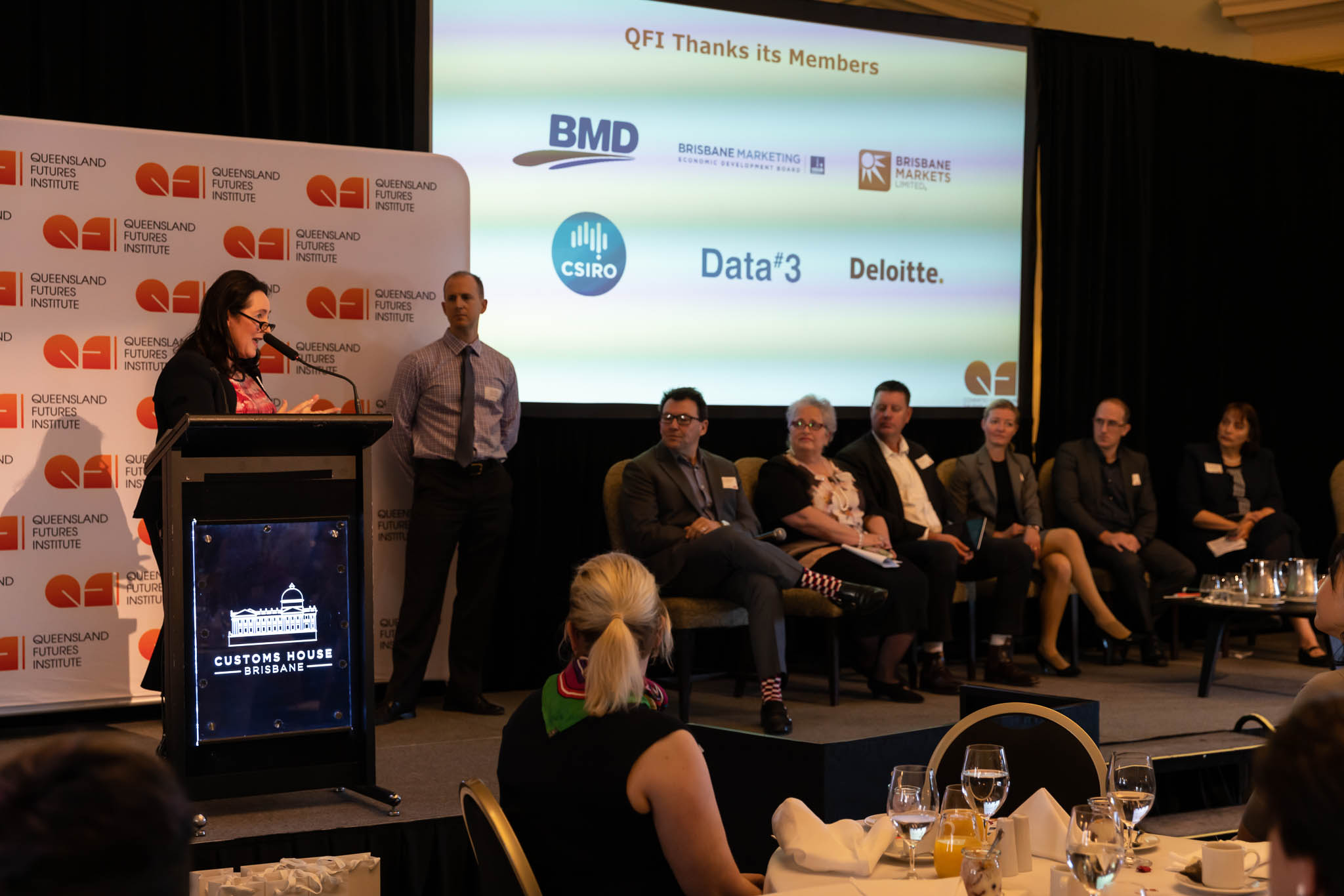 System-wide technology reform, digital hospitals, technology implementation and out-patient customer experience for chronic disease management were all items on the agenda at a recent panel in conversation regarding the future of health in Queensland. Held at Customs House on Wednesday 4 September, the breakfast was part of the Queensland Futures Institute's 2019 breakfast series, which features influential policy makers and shapers.
The panel discussion, moderated by the Business School's Future of Health co-lead, UQ Development Fellow and Professor of Business Information Systems, Professor Andrew Burton-Jones, attracted over one hundred health researchers, practitioners, and policy makers with a vested interest in the future of health in Queensland.
On the panel were six key thought leaders who provided insight into their experiences working within several large statewide healthcare organisations across both public and private practice. Discussants included:
Mr Cameron Ballantine, Chief Information Officer, Metro South Health
Ms Veronica Casey AM, Executive Director Nursing Services, Princess Alexandra Hospital
Mr Chris Crooks, Strategic Solutions Executive, Telstra Health
Dr Rae Donovan, Consultant Emergency Doctor & Medical Director (Digital Hospital Services), Princess Alexandra Hospital
Professor Steven McPhail, Acting Academic Director, Australian Centre for Health Services Innovation (AusHSI)
Dr Christine Slade, Senior Lecturer, Institute for Teaching & Learning Innovation, The University of Queensland
Several areas of importance emerged during the discussion including patient engagement and education, data privacy, the voice of the patient, and access to digital hospital information such as the electronic medical record. Maximising team capacities will align with the realities of virtual interaction required for new ways of working.
Commenting on the robustness of the discussion, Professor Andrew Burton-Jones observed that:
"We were fortunate to have panel members who could speak with firsthand experience of the challenges and opportunities for health services when they undergo digital transformation. They each came from different vantage points, including nursing, medicine, technology, health services, and economics. The common focus was having the patient at the centre of the discussion."
Professor Janet McColl-Kennedy, Associate Director, Research (Engagement and Impact), Professor of Marketing and Service Innovation Alliance co-lead, summarised key themes and takeaways from the panel discussion in her closing remarks and vote of thanks noting several key themes for the future of health in Queensland – and in health research more broadly. As noted by Professor McColl-Kennedy during her concluding remarks, "All speakers emphasised the importance of taking a patient-centred approach and that technology, while not a solution, is an enabler of better patient experiences. It's clear from the discussion that the way clinicians have been trained in the past needs to change. Going forward clinicians and health professionals generally need training in digital skills and how to better interact with empowered patients. Multidisciplinary care teams have access potentially to huge amounts of data and navigating their way through will be critical. Further, we need to recognise that teams may be virtual, emphasising the importance of having high levels of digital skills and working collaboratively across digital, social and physical spaces.
The final breakfast seminar for the year, to be held on November 14 is titled "The business of community services" and will be moderated by the Business School's Future of Health co-lead and MBA Director, Dr Nicole Hartley.
The University of Queensland Business School is a corporate sponsor of the Queensland Futures Institute 2019 breakfast series.
Learn more about Future of Health.