Master of Entrepreneurship and Innovation 
Applications close: 31 January 
Top reasons to study a Master of Entrepreneurship and Innovation at UQ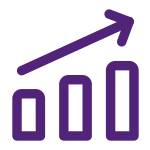 Develop practical, in-demand skills
Gain hands-on experience applying the latest innovative thinking, learn to test new ideas, hone your creative problem-solving skills, and drive business growth in any organisation or industry.

Globally recognised + connected expertise
Ranked #1 in Queensland for business and management, The University of Queensland is also one of the top 50* world universities. *(2021 QS World University Rankings).

World-changing content, inspiring teachers
Be inspired by leading innovation experts who will challenge you to address emerging global challenges.

A safe place to test ideas, get support and grow your network
Access a global network of passionate mentors, innovation hubs and accelerator programs including via UQ Ventures.
Career outcomes
As a graduate of The Master of Entrepreneurship and Innovation you can expect careers in companies, agencies and organisations across the private and public sectors, both in Australia and abroad in a range of business functions.
Specific roles largely depend on your study fields, but the Master of Entrepreneurship and Innovation provides significant flexibility depending on your career aspirations.
As a UQ student, you have access to a range of services to prepare for a successful career:
Program specialisations
The Master of Entrepreneurship and Innovation will take you 1.5 years to complete (or part time equivalent). The program will support you to develop skills to encourage original thinking. There are five fields of study that you can choose to specialise in, or you can choose to create a bespoke program: 
Customise your program 
You can create a bespoke program, choosing specific courses from the different specialisations to create a bespoke program that suits your specific personal and professional goals and interests. 
Courses in this emerging technological field explore important characteristics of new technologies, the management of innovation and commercialisation, and the establishment of new ventures in biotechnology industries.
This field caters for students seeking knowledge and practical experience in understanding how humans interact with electronic devices and other new technologies.
These courses leverage UQ's global leadership positions in food and agriculture and lean startup methodology to create skilled food entrepreneurs and innovators.
This field is for students seeking to lead social change in a 21st-century context with skills focused on social entrepreneurship and community development.
This area of study is suited to students seeking knowledge and application of innovative solutions to the challenges facing organisations and society in relation to energy.
What you'll learn 
Learn to test new ideas, hone your creative problem-solving skills, and drive business growth in any organisation or industry. Here is a snapshot of the courses you could undertake in this program: 
Click here to see the full list of courses
Depending on your previous qualifications and current goals, you could also consider the Graduate Certificate in Entrepreneurship and Innovation. It provides access to all the Master of Entrepreneurship and Innovation courses but requires less time commitment. You can switch to the Master's program at any time.
Looking for more inspiration
Discover stories and teaser topics from Master of Entrepreneurship and Innovation lecturers and students.
Change creates demand for new products and services as well as opportunities to use resources in new ways. Understanding how different changes will affect your business and what to do about it is crucial to not only surviving but benefiting from that change.

Learn how big businesses such as Canstar and new ventures innovate, fast, by using design sprints. Whether you want to validate new ideas, improve processes or increase profitability, design sprints will help you solve complex challenges rapidly without significant investment.

As Australia emerges from a winter hibernation unlike any experienced before, many small businesses are struggling to stay afloat. Top UQ business and law experts share their top strategies to help small businesses take stock, pivot and innovate to avoid an insolvency spiral.
Pages
Master of Entrepreneurship and Innovation webinar recording
View the recent Webinar session with UQ Master of Entrepreneurship and Innovation program leader, Dr Frederik Von Briel, as he answers all your questions about the program. 
What do our students say?
"The Master of Entrepreneurship and Innovation is a great mix between theory and practices. In a world like the one where we live, theory isn´t enough, so having the chance to apply what I was learning while studying in different ways (personal projects, work and class assignments) was unique." - Andres Abogabir