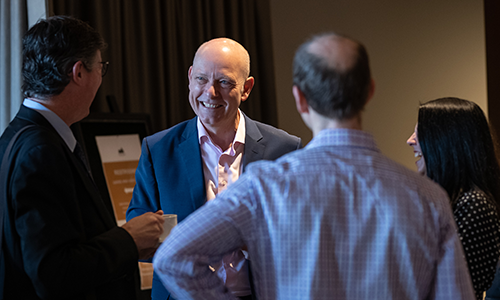 On July 29, the Future of Health (FoH) Research Hub hosted the breakfast seminar 'Unleashing the future of health for Queensland'. Held at Customs House, the event brought together a panel of four world-class researchers and experienced health care leaders to discuss pathways to accelerate and strengthen high-quality healthcare in Queensland.
Importance of collaboration
Our first speaker, David Bunker (Executive Director, Health Translation Queensland) highlighted the importance of collaboration and transformation for healthcare reform. David, an experienced leader with a career that spans over three decades planning and delivering business transformation across health, research and education, finance and telecommunications sectors, spoke to the key pillars of the translation process: integration and collaboration between researchers and clinicians, but also policymakers and health consumers. Here he espoused a learning health ecosystem approach to transformational change. He highlighted the critical role of research in this ecosystem – recognising that when research influences practice and practice influences research, the more we can integrate, the better our health system will be.
Learnings from COVID-19
Dr Kellie Stockton (Director of Allied Health Services, Surgical Treatment and Rehabilitation Service, Queensland Health), an experienced health care leader in the private, public and not-for-profit sectors, who has a strong track record in the implementation and management of innovation models of care to improve access to timely and effective healthcare services, discussed her experiences and learnings from the COVID-19 pandemic with a focus on key factors for implementing innovative models of care. These key factors include clinicians who are able to work to their full scope, in an open health system with a consumer focus and an adaptive management approach where staff are empowered to make decisions about service change that is supported by systems change. Kellie impressed that innovation is the ability to see change not as a risk or threat, but as opportunities, for constructive action towards positive outcomes – creating a better health system with equity of access and clinicians who can work to their full scope.
Moving from a reactive system to a proactive health system 
Michael Draheim (Chief Clinical Information Officer, ORACLE Cerner) is a highly experienced executive leader who has led significant clinical and business transformations across public and private sectors. Michael spoke about the importance of moving from a reactive system to a proactive health system, that uses data and data sciences to facilitate efficient and timely healthcare. Michael shared his expertise in digital workforce and digital transformation, including the delivery of complex digital projects and the power of data. He concluded that if we can take innovation strategies that exist and learnings from across the world, and integrate these into our systems in Queensland, we could enable greater access to impactful healthcare data that would enable greater access to care, new models of care, workforce flexibility that collectively and consistently deliver impactful healthcare outcomes.
Accountability mechanisms 
Finally, Dr Robyn King (Senior Lecturer, UQ Business School) presented on accountability mechanisms. Robyn's research expertise includes management control system design and use, with a particular focus on health care and not-for-profit organisations. Robyn emphasised the importance of both intelligent accountability, and transparent accountability to support healthcare system change. Complementary governance, where a balance is achieved between intelligent accountability practices, fully supported by transparency, facilitates trust and effective communication of organisational strategy for all. This is where open, forward-looking conversations can be had at all levels of an organisation, where everyone is informed about system strategy and goals, and where conversations occur downstream and upstream.
The panel discussion concluded the event, with conversations focusing how to embed innovation in the healthcare system. Panellists discussed the need for innovation to be supported by business models, data, and the ability to translate evidence-based outcomes. Finally, collaboration remained a key takeaway, in that by working together with consumers, and pushing for systems level change, we can meet increased needs of our health care system in Queensland and nationwide.
Learn more about how UQ partners with industry to prepare for the Future of Health.