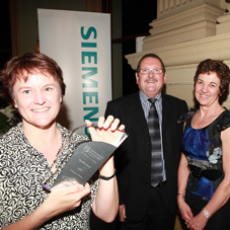 Graduating MBA students gathered last week to celebrate the end of their studies and to recognise seven of their peers for their outstanding achievements.
Head of School Professor Iain Watson said the awards were established in 2005 and had become one of the School's signature events.
He said, "This year the awards were generously sponsored by Siemens Queensland and Regional General Manager John Britton presented the Top MBA Award at a formal dinner at UQ's historic Customs House."
"I was delighted to be able to congratulate most of our 2010 graduating class and acknowledge the outstanding performance of our seven award winners."
The Margaret Mittelheuser AM and RBS Morgans Prize for MBA accounting and finance was awarded to 2009 graduate Emma Charlton (Brisbane).
Professor Watson said the Mittelheuser prize had been established in perpetuity by Margaret's sister Cathryn and RBS Morgans as a tribute to Margaret's stellar career as Australia's first female stockbroker.
He said, "Cathryn is also a woman to be reckoned with – she studied plant biology at UQ and published a string of influential papers.
"Her 1969 paper in Nature is still cited today."
Winner Emma Charlton is an Associate Director of AECOM where she's been working since completing her engineering degree – with first class honours – at UQ.
CEO of the Prince Charles Hospital Foundation Kate Ashton presented the Service to the Community Award.
Winner Rob Levison (Corinda), CEO of Industrea, said the UQ MBA helped him fashion his highly effective growth strategy for the company.
As well as taking Industrea from negative earnings to a place on the ASX300, Rob contributes as a Director of the St Aidan's Anglican Girls School Foundation, a council member of the Australian Business Arts Foundation, a mentor in the Queensland Government's SME mentoring program, and as a judge for the Earnst & Young Entrepreneur of the Year.
He has also committed Industrea as a sponsor of Yalari – an organisation devoted to providing an outstanding education for talented indigenous high school students across Australia.
Academic Excellence Awards were presented to Sally Bledsoe (Hamilton), Annie Chang, and Nathan Sticklen (Bulimba). The winners all achieved overall a Grade Point Average (GPA) above 6.4 (7 is the highest possible).
MBA Director Associate Professor Polly Parker said the student with the highest GPA and therefore the winner of the Top MBA Award was Margaret Young (Camp Hill) who achieved a GPA of 6.75.
She said, "Margaret always gives a 110% and has been a great contributor in the program."
Siemens Queensland GM John Britton also congratulated Margaret and shared with the audience one of her favourite Ralph Waldo Emerson quotes.
"To laugh often and much, to win the respect of intelligent people and the affection of children, to earn the appreciation of honest critics and endure the betrayal of false friends, to appreciate beauty, to find the best in others, to leave the world a bit better, whether by a healthy child, a garden patch … to know even one life has breathed easier because you have lived. This is to have succeeded!"
The UQ MBA was ranked in world's top 100 programs in 2010 by The Economist. For more information about the UQ MBA please see www.uq.edu.au/mba.