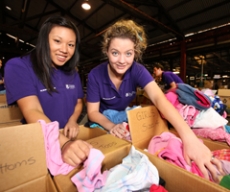 Almost 150 UQ Business School students got a taste of what flood victims went through when they volunteered in Grantham and Banyo recently.
The undergraduate students joined forces with Emergency Volunteering as part of their first year introductory management course which aims to teach them business management concepts as well as ethical and social understanding.
A busload of UQ Business School students, prepared for hands-on labour and other clean-up tasks, arrived in Grantham on Friday, and a second bus took 50 more student volunteers on Sunday.
Another 57 students landed at the Connected Distribution Centre at Banyo on Saturday, and helped put together relief packages to go to families affected by the 2011 floods.
Course co-ordinator Dr April Wright said that more than 100 students in the course have already volunteered through organisations such as Conservation Australia and the RSPCA.
"These volunteering experiences help UQ Business School students appreciate the broader community context within which businesses operate and increases their ethical and social understanding as future business leaders and managers," said Dr Wright.
Dean and Head of UQ Business School, Professor Iain Watson, said the flood recovery effort was the ultimate voluntary experience for students to begin learning about social and ethical responsibility.
"These students threw themselves into the task wholeheartedly and in doing so, have realised that they can have an active part to play in the wider community, in addition to or as part of their work or business," Professor Watson said.
Media contacts: Alisa Cork, Niche Consultants, 0428 381995 on Dr April Wright, UQ Business School on 07 3346 8068 or 0410 012 567.