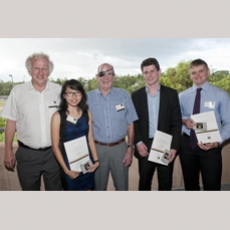 Three UQ Business School students have won financial assistance from the Frank Finn Scholarship Fund to help them complete their studies.
Domestic students Graeme Sickelmore and Louis Banks and international student Pei Wun Han, all in their final year studying for their Bachelor of Commerce (Honours) degrees, were presented the award by Frank Finn at the Honours Welcome event this month.
Pei Wun Han, who is also a tutor at UQ Business School, said: "Receiving a Frank Finn Scholarship was a great honour. It will also lighten some of the financial pressure for me in what will no doubt be a busy and challenging year ahead."
The Scholarship Fund was established in 2008 on the retirement of Emeritus Professor Frank Finn to acknowledge his lifetime commitment to teaching commerce. Professor Finn held several positions at UQ, including Dean of the Faculty of Commerce and Economics, Head of the School of Commerce and Director of Studies in the Faculty of Business, Economics and Law.
Aimed at supporting the future leaders of business, the scholarships – covering tuition fees – are open to commerce students undertaking an Honours degree. Applications are judged on academic merit and financial need. Associate Professor Irene Tutticci, who is the Bachelor of Commerce (Honours) Program Director, said: "Studying for an Honours degree can place a significant financial burden on students and in many cases individuals have to study and work at the same time. The Frank Finn Scholarships aim to relieve the pressure and give outstanding students a helping hand to complete their course.
"Professor Finn himself won a scholarship in his Honours year and acknowledged the help that it provided during his early career. We are delighted that this scholarship is helping today's students in the same way."
UQ Business School is now over halfway to its target of raising an endowment fund of $1 million, which will secure the scholarships in perpetuity. A substantial number of donations have come from UQ Alumni, academics from other institutions, UQ employees and members of industry who have known and worked with Professor Finn.