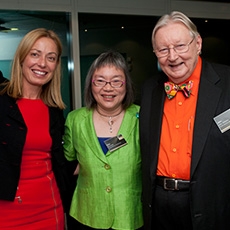 Last month, 47 MBA students gathered at UQ Business School Executive Venue for an afternoon with globally renowned business man and mentor, Lord John Bittleston, and his wife and business partner, Lady Eliza Quek.
John and Eliza are the Founders of Terrific Mentors International, a business mentoring and training organisation based in Singapore. Throughout his career, John has mentored over 6,000 business executives worldwide and is regarded as a leading commentator, writer and business thought leader of this century.
The MBA students were privy to a discussion facilitated by John entitled, 'The Rise of Asia: Opportunities for New Management Skills, Outsourcing and Employment', where attendees were invited to reflect during a 'Drink & Think' session about such diverse topics as opportunities for working in Asia, the questions of ethical standards, and the importance of establishing and committing to life goals. John and Eliza communicated insightfully and entertainingly, through colourful stories and analogies. The discussion was followed by networking, where the students had a further opportunity to speak with John Bittleston and his wife, Eliza Quek, the Trainer Mentor of Terrific Mentors International.
MBA student and attendee Arthur Tang, Senior Sales Manager at Asteron Life, said that the most enjoyable part of the event was receiving "anecdotal experiences from two incredible individuals."
John Bittleston said: "Having a University Business School as enlightened and forward-looking as that of The University of Queensland involved in discussions on mentoring and how it benefits people of all ages and walks of life is a big step for us. We see it opening prospects of other seats of learning and thinking coming together for a couple of hours to ponder the 'why' of so much that seems to be balanced too far in favour of the how."
Dr Sarah Kelly, MBA Director, said: "We were delighted to welcome John and his wife Eliza as guests to UQ Business School. Their extensive experience as business leaders and mentors, conveyed so meaningfully in an informal environment encouraged our students to think creatively. One memorable message shared by John and Eliza was that values instilled in business and personal interaction translate to success."