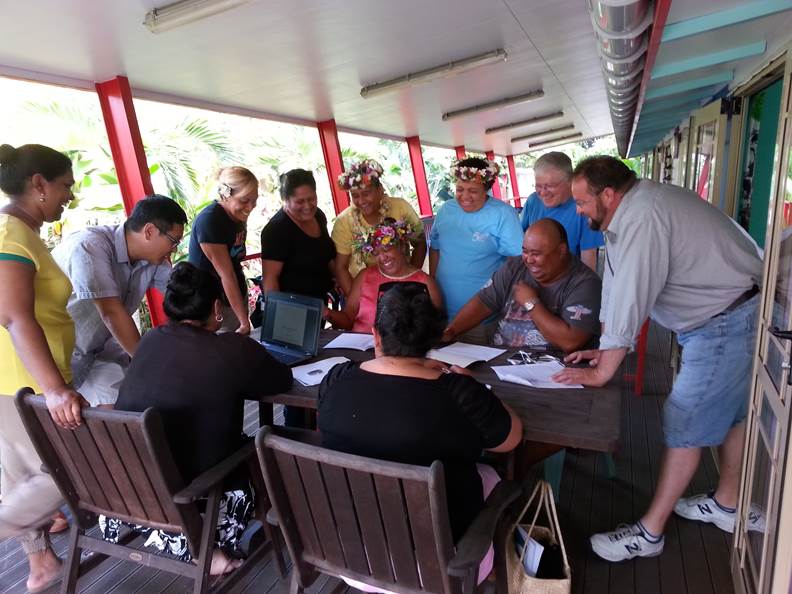 A new wave of entrepreneurs is helping to revitalise South Pacific island economies with the support of The University of Queensland Business School.
UQ Master of Business students are providing training for start-ups and small firms on the islands in an attempt to generate jobs and prosperity.
UQ Business School Senior Lecturer in Operations Management Dr David Parker said a Progressive Dinner Tour had been developed by Tofinga Aisake in Rarotonga in the Cook Islands.
Guests meet the local people and sample authentic dishes such as marinated fish, cooked cassava and rukau.
Mr Aisake plans to extend the tour to other islands through a franchise model.
"What I learned from the Australian advisors was that establishing a new business is not about 'inventing' something new. It's about modifying or innovating on an existing idea, developing it and bringing it to the market," he said.
Entrepreneur and training participant Lary Fatu has established Rarotonga Guided Tours to supplement his horticultural business income.
He drew inspiration from a visit to an overseas art gallery where visitors could hire MP3 players for guided tours. The UQ students helped him develop the business case for a similar concept.
"One of the important learnings that I took from the Australian student team is that you find inspiration for business opportunities from various places, not necessarily from the business sector you are in," Mr Fatu said.
He plans to extend his business, developing specialist wildlife, botany, history and cultural tours.
The business courses are part of a range of initiatives involving UQ students in the Cook Islands, Solomon Islands, Marshall Islands, Tonga and Fiji, in partnership with the University of the South Pacific.
Dr David Parker said a key theme of the projects was 'economic gardening' ─ enhancing economic growth by cultivating small firms.
"We aim to create local businesses with global market reach," he said.
"Given the very small populations of the islands, it is important to generate more globally focused enterprises in addition to addressing the challenges they face at home."
"Enhancing growth is not just about creating new ventures.
"There is a lot that can be done to enhance existing industries via marketing, market development or operational innovations."
Dr Parker said family business and community enterprises were a key part of Pacific economies, but there was a need for training.
"Our students are also examining how traditional industries can be enhanced via innovation to create new opportunities for these communities and add value to the national economy," he said.