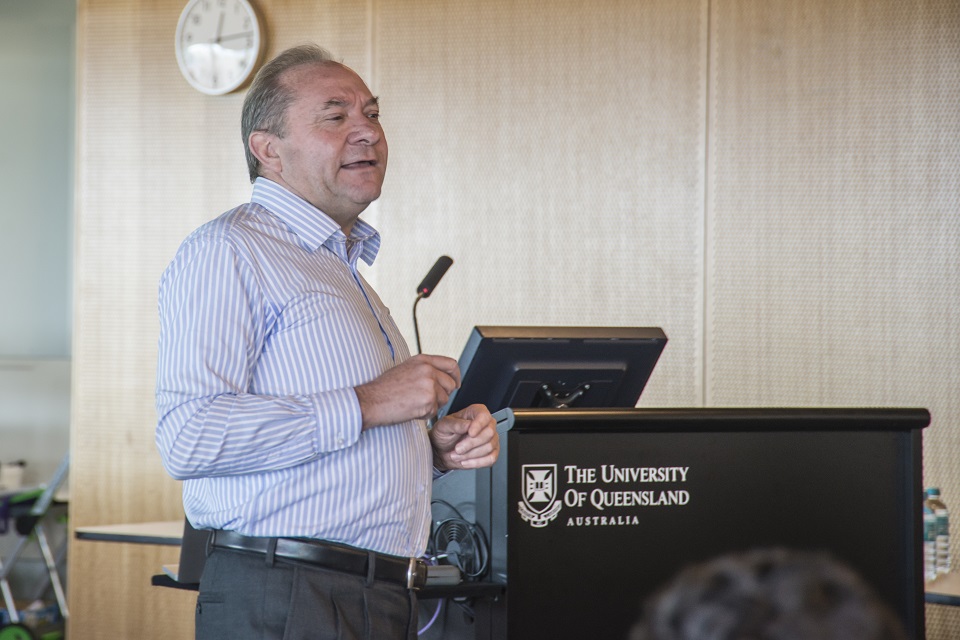 Failure, self-belief and life as a "hamster on a wheel" – acclaimed German social entrepreneur Dr Andreas Heinecke held nothing back during his guest lecture at The University of Queensland this month.
Dr Heinecke was the first international guest speaker for The Edge Student Leadership Series (The Edge), an initiative of the Faculty of Business, Economics and Law (BEL) Student Employability Team (SET).
Dr Heinecke inspired students with anecdotes from his personal life and career journey
His foray into social entrepreneurship began in 1988 when he created Dialogue in the Dark, an exhibition where visitors are led through pitch-dark rooms by blind tour guides.
The exhibition asks visitors to step out of their comfort zones and into the shoes of the visually-impaired, relying on cues such as scent, sounds, temperature and texture to make sense of their environment.
His initial concept has grown into a global social enterprise spanning 39 countries, attracting over ten million visitors worldwide and employing thousands of blind or visually-impaired staff.
Dr Heinecke said he wanted to offer an experience to increase public understanding of disability and create social change.
"The 'upside-down' world of Dialogue in the Dark shows us that our notions of ability and disability are relative," he said.
Dr Heinecke described the many challenges he faced during the early years of Dialogue in the Dark, including his precarious financial situation and difficulties building a following. 
"It took at least 10 years to build [my business] up," he said.
"There are no instant successes, and bettering the world in a fundamental way doesn't happen overnight."
Jacqueline Niblett, coordinator of The Edge, said Dr Heinecke's presence highlighted the relevance of BEL SET's programs in a global market.
"With The Edge, our goal is to broaden our students' horizons and introduce them to both Australian and international perspectives in leadership and business," she said.
"We're thrilled to welcome Dr Heinecke, an internationally acclaimed social entrepreneur with a global profile.
"He had his pick of universities but chose to speak to our students, which is a testament to our growing reputation as global leaders in the business world."
Dr Heinecke's lecture took place during his one-week visit to UQ Business School, where he collaborates frequently with Dr Anna Krzeminska on social entrepreneurship research and teaching projects.
According to Dr Krzeminska, social entrepreneurship is an increasingly popular study area.
"Students' interest in course offerings and research opportunities in social entrepreneurship is growing massively, and we welcome inquiries from anyone interested in this fascinating area," she said.
Dr Heinecke complimented programs like The Edge for shedding light on the "personal journey" of guest speakers.
"Students can learn the most from speakers who are open to discussing their setbacks and difficulties," he said.
"It's not about showing off your success and your wealth; that's not interesting.
"I believe it's our responsibility as role models and leaders to put students on the right track and teach them how to tackle adversity."
Lecture attendees said they were engaged by Dr Heinecke's unique blend of humour and practical advice, and inspired by his insight into the world of social entrepreneurship.
The first Australian Dialogue in the Dark exhibition will launch in Melbourne next March.
Dialogue in the Dark is part of Dialogue Social Enterprise, a global social enterprise that includes offshoots such as Dialogue in Silence and Dialogue with Time.