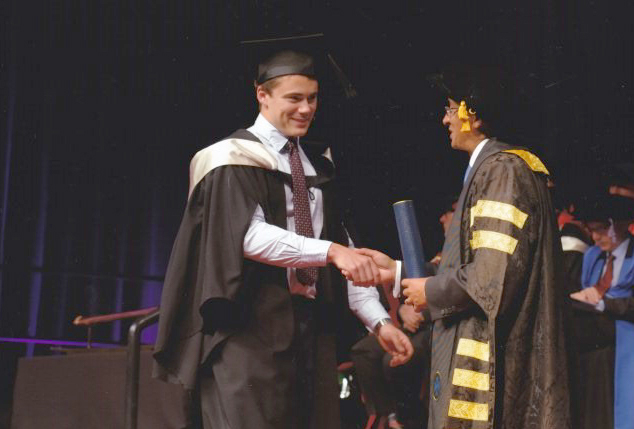 To say Jordan McMullen has accomplished a tremendous amount during his four-and-a-half years studying at The University of Queensland would be an understatement.
Both Jordan's parents attended The University of Queensland and as passionate alumni, planned for their son to attend The University, cementing their ambitions by building their family home across the bridge from the St Lucia campus back when Jordan was only a toddler.
The dream for their son came true when in 2013 Jordan was accepted into a Bachelor of Business Management and Journalism at UQ; he made sure to make his parents proud by making the most of every opportunity.
Jordan found his feet at university, joining numerous social clubs and societies, and securing an internship with the ABC in Brisbane in his first year of study.
 "I was a founding member of the UQ Business Management Committee in 2016, with the aim to further connect my fellow students with the UQ Business School."
"During 2013 I joined the QUEST executive committee, UQ's international exchange student society as I wanted to go on exchange."
"After two years on the executive I decided that I had to experience as much of the world as I could, and applied for exchange at Edinburgh and UNC (University of North Carolina) at Chapel Hill," he said.
Jordan then spent the year on exchange where he studied business at the University of Edinburgh in semester 1, and UNC to study journalism in semester 2.
"Both these schools are some of the best in the world for my particular areas of study. At UNC I had the opportunity to work professionally in digital innovation for Reese News Lab."
Whilst on exchange, Jordan was awarded for his extra-curricular activities winning a UNC-wide competition, 'Crash Campaign'.
"We worked in teams to rebrand and remarket real companies over a 24-hour period, then pitching our strategy directly to the businesses."
"I also received an honourable mention for my team's creative strategy in a USA-university-wide competition, where we were tasked with creating strategic campaigns for Facebook" he said.
As Jordan's year abroad came to an end he was motivated to continue his work in innovation and marketing, so before returning to UQ he took a flight to Cape Town, South Africa, somewhere that was totally foreign to his way of life.
"From my experiences at UQ I had learnt that throwing yourself into unknown situations usually called on your ability to adapt and extend yourself passed what you are used to in comfortable surroundings."
"I found an intriguing company called RLabs, a social enterprise aimed at assisting the poverty-stricken areas of Cape Town through innovation.
"I emailed the company various times, and received no response. I decided that the best chance I would have involved simply walking into their offices after I arrived.
 "Upon my third visit I finally was able to catch two senior staff, and after an on the spot interview I was told I was to be a part of the innovation team that was launching Cape Town's first Innovation Lab. I also discovered that their phone lines had been cut by local thieves stealing the copper wires and this meant their emails were irregularly checked.
"I worked with the team at RLabs for a month, designed and executed the first two workshops, created the initial press releases, undertook the research for the future workshops and consulted with the team for the innovation labs first year's goals," he said.
"I had arrived in Cape Town with nothing but my own motivation and persistence. I was rewarded with a job and some experiences with the youth of Cape Town that I will never forget.
"During this time I also volunteered as a Maths, Sport and English teacher at the nearby Eros School for children with Cerebral Palsy, where I created training programs for their soccer and athletics teams, and assisted in changing how they taught mathematics to children between the ages of 4-7 with reading impairments," he said.
Shortly after his return to Brisbane, Jordan was once again boarding a flight, this time to France on a UQ Study Grant to further his study in French.
There was no keeping Jordan on home soil, "Finally, I received the New Colombo Plan scholarship to undertake a documentary on children with hearing disabilities and the difficulties in their education in Jakarta, Indonesia, as part of a 16 student team."
Last year Jordan also secured an internship at the Australian Financial Review in Sydney as part of his Journalism course.
With an outstanding University experience, Jordan offers three points of advice to current students:
"Keep jumping out of your comfort zone, it's the activities and situations that you feel uneasy in that will ultimately extend your abilities as a potential employee and person.
"Persistence. Failing a million times and missing out is part of getting anywhere. I would never have had the opportunities I had in my university life I stopped trying after failing.
"Positive mindset. I have never realised how powerful finding the cup half full is. Even when objectively looking at a failure or something impeding your way, you can find some sort of benefit or positive to the situation you are in."
Jordan graduated on the 19th of July as valedictorian with a Bachelor of Business Management and Journalism with a major in Marketing, and is set to begin work with the tech-giant, Google.