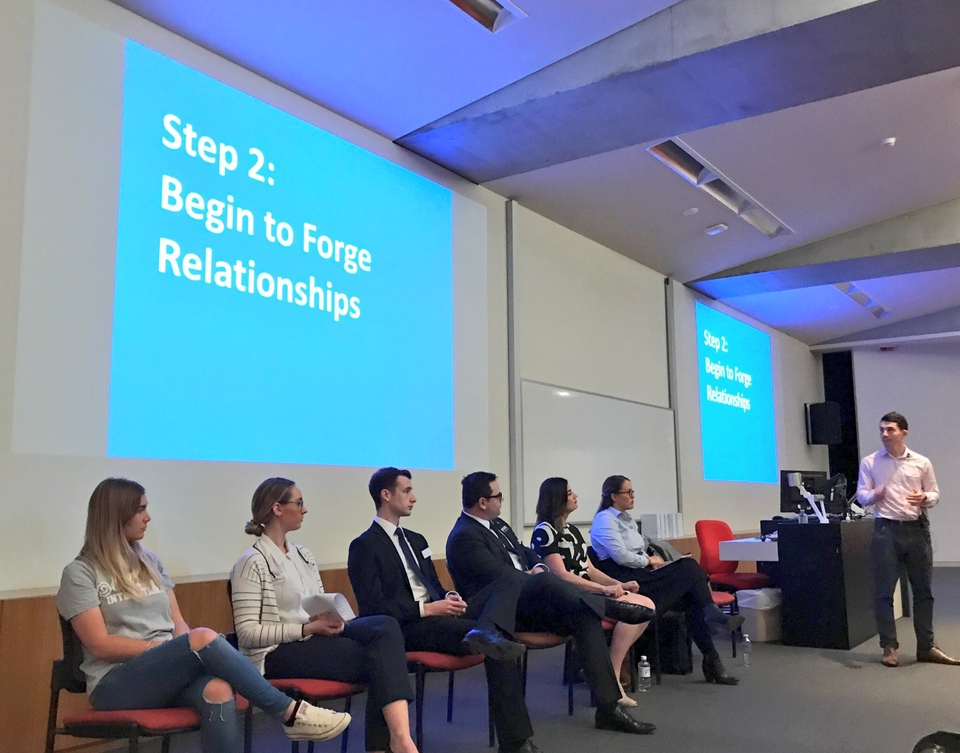 Taking the step from university studies into industry work can be both daunting and exciting, however seven Tourism alumni have returned to the classroom to share their personal experiences with current students.
UQ Business School Tourism course, TOUR3009 Professional Development offers students a range of practical experiences throughout the semester that assist them in bridging the gap between university studies and entering the industry. The Professional Development course has a series of lectures on topics such as workforce etiquette, resume writing and interview skills, a discussion forum with Adjunct Professors about current industry issues, the annual MILE networking event held at Customs House and a compulsory industry placement.
Course lecturer Dr Rosie Adsett says "the course is designed to help our graduating students have a better understanding of who they are; understand their strengths, to know what they want in their career. It's through this self-awareness they will be better able to represent themselves in a confident manner when they enter industry."
The Professional Development course has been running alumni forums since 2010, with Bachelor of International Hotel and Tourism Management program leader Dr Karen Hughes saying "we find our alumni are always keen to be involved and that the current students find this to be one of the most useful and engaging sessions in the whole program."  
"Interestingly, each year the alumni all say how valuable and inspiring they found the advice when they were going through the program which is why they are delighted to be invited back," she said.  
The alumni work in a variety of tourism sectors and ranged from newly graduated to those more established in their careers.
This year's forum was facilitated by 2016 graduate Mark Newman, and included past students; Tahlia Roberts, Alessia Chick, Rui Ozorio, Ashleigh Huddey, Benjamin Ramsey and Sheriece Kamp.
The alumni each shared their personal experiences in transitioning from study to the workforce. Common themes and advice for current students included:  
Be brave enough to go out of your comfort zone – if you're not good at something, practice until you are
Maximise every opportunity - work hard and be prepared to work for free and to go beyond the confines of the job description
Be confident in yourself – you have developed lots of skills during your studies that you might not realise
Networking is critical – you need to develop excellent communication skills because people do business with people
Research the position and the organisation thoroughly before your interview
You won't always be successful – reflect and learn from every experience
Career paths are not linear – be prepared to go sideways or even down to get to where you eventually want to be
The honest and open advice that was given by the alumni was well received amongst the students..
"Our students don't relate to their lecturers in the same way, they assume that we wouldn't understand how hard it can be to find a job. They relate more to students who they can see have been in the same position as themselves."
"It helps build student's confidence knowing that people who were in the same position as them just a few years back have been able to successfully navigate the job market," said Dr Rosie Adsett
Dr Karen Hughes believes in creating a 'family' that goes beyond the bounds of just the current cohort. The Tourism discipline at UQ values the power of networks and industry connections and sees keeping in touch with alumni an important part of their role as educators. 
"Students love to hear stories from people who were recently in their shoes, it's far more immediate and believable than anything lecturers can tell them, even if it's exactly the same! Real stories and personal anecdotes are incredibly powerful," she said. 
---
Read more about the Bachelor of Tourism, Hospitality and Event Management.