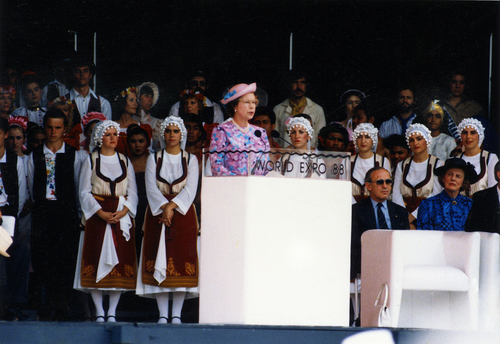 This article was originally published by The Conversation, by Associate Professor Judith Mair and Andrew Smith.
---
Thirty years ago today Queen Elizabeth II opened the World Expo in Brisbane, Australia. The six-month event attracted more than 15 million people to the city's South Bank. World expos have a long and prestigious history as urban development vehicles, and the 1988 edition helped to shape Queensland's capital.
Expos remain popular even if the basic premise – nations gathering in one place to display their technological innovations – now seems outdated. Expo 88 was an event in both senses of the word. It was a planned occasion with a specific theme, but it was also a pivotal moment – a point from which things were never the same again for the host city.
This article explains the significance of Expo 88 and outlines why other cities should pay attention to this example of event-led urban regeneration.
A 'free-enterprise expo'
Expo 88 was conceived hastily after Brisbane hosted the 1982 Commonwealth Games. The success of the Games had impressed Queensland's pro-development leadership who were keen to reposition their capital as a world city, rather than a regional centre.
An academic study 15 years after the event found that memories were both strong and positive. One participant summed up the general feeling: "I remember being happy."
It's hard to find anyone in Brisbane who has a bad word to say about Expo 88. Given that most mega-events tend to divide opinion, that's a considerable achievement.
Sustaining the s​pectacle
Expo 88 was a temporary event but it changed Brisbane culturally and physically. It redefined the city as one oriented towards culture and leisure, turning citizens into cosmopolitan consumers. The expo also helped to create South Bank Parklands – a 40-hectare site that is now the city's most popular leisure precinct.
However, the relationship between Expo 88 and South Bank is more complicated than is often assumed.
The original legacy plan was to sell the riverside expo site to developers. They wanted to create a tourist precinct typical of those that now dominate the world's post-industrial waterfronts.
But the expo raised expectations and created a public appetite for a South Bank that could replicate the sociable festivity that people had enjoyed in 1988. The expo was now part of the city's psyche.
This forced the (new) government to change the plans. A revised master plan was conceived – formulated by a company that specialised in theme park design – with half of the site retained as open space.
The behaviours, emotions and expectations engendered by Expo 88 influenced the reconfiguration of the site.

Time to think again
The parklands that opened in 1992 were a success at first, but flaws in the master plan, a failure to attract a broad range of users, and the lack of commercial revenue forced a rethink. The development corporation responsible for the site adopted a new vision – one to which contemporary cities should pay close attention. By designing a place that appealed to locals, and that was properly integrated into the surrounding area, officials assumed that tourists would be attracted too.
The revised plan worked. South Bank Parklands is now a much-loved and heavily used part of Brisbane.
This is not a relaxing and tranquil space; it does not provide a way of escaping the city like Central Park in New York does. This is a precinct that hosts playgrounds, picnic lawns, event venues, urban beaches, paddling pools and cafes. It is Brisbane's playground – used by locals and visitors – providing free fun by the bucketload.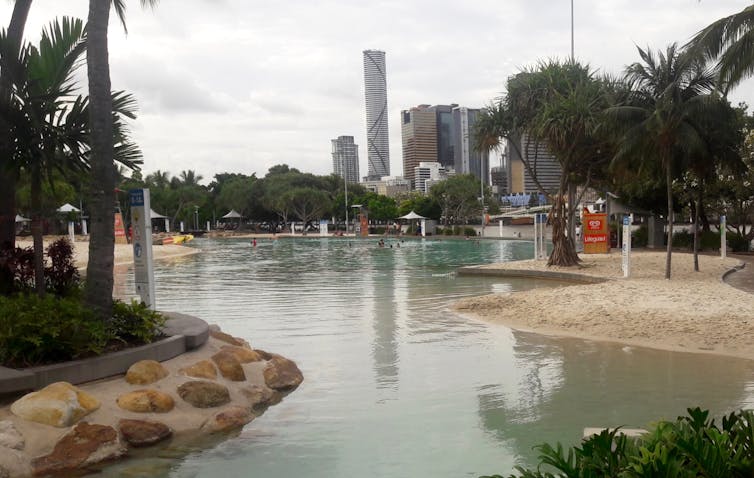 Before touting Expo 88 as an exemplar for future projects, it is important to note less positive aspects that might be conveniently forgotten in oversimplified policy lessons.
Like many other mega-event projects and waterfront schemes, the development of Brisbane's South Bank displaced low-income groups and "scruffy" industries which were swept aside by a growth regime intent on property development and new investment.
To justify the project, the existing site had to be denigrated. The Expo 88 souvenir program described it as "an area of derelict dockyards, unacknowledged brothels and disreputable hotels". Only by representing South Bank as an area that was decaying, depraved and worthless could such large–scale transformation be justified.
Cities pursuing mega-projects today continue to use this dubious tactic.
Lessons for other cities
Expo 88 offers multiple lessons for urban authorities contemplating similar projects. Three stand out:
Revenues from ticketing, sponsorship, merchandising and property sales funded the expo – proving that mega-events don't have to leave governments indebted.

Expo 88 demonstrated that temporary events change public expectations of urban space, which can drive permanent changes to the cityscape.

The case highlights an important urban design principle: successful tourism spaces can be created by focusing first on attracting locals.
This World Expo project was hastily conceived, and legacy plans had to be changed several times, but the creation of South Bank Parklands means Brisbane is still partying like it's 1988.