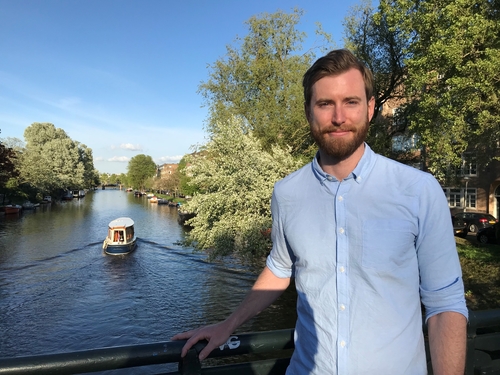 Tritium, which was founded by three UQ graduates, is now the world's third largest manufacturer of electric vehicle chargers. UQ Business School alumnus, Matthew Finn, is leading the company's international expansion and shares insights into his role and vision for the future of the energy industry.
How did you end up working for Tritium?
In 2001 when I was 14, my older brother David and two friends started a business from my parents' house in Brisbane. The three of them had studied together at UQ together and had built a solar-powered car which they raced from Darwin to Adelaide in the World Solar Challenge. They were now selling the electronics parts they had developed.
I went on to UQ myself to study chemical engineering and then worked in mining for six years until the mine I was working at closed, when I returned to UQ to do an MBA.
While I was looking for a job afterwards, my brother suggested I do a project for his company. They had developed a new charger for electric cars and needed help to produce instructions and documentation. As I immersed myself in the details, I got to know a lot about the product and once the work was completed, the team suggested I oversee production for a joint venture project in China.
Once they realised I was willing to travel, I became known as the 'overseas guy' and was soon involved in finding locations to support Tritium's international expansion. I launched the US office in early 2017 and an Amsterdam office in March 2018.
What qualities help you in your job?
As a child I was given a lot of freedom and autonomy and that has allowed me to think creatively and work well by myself. At Tritium, the team tell me what they want to achieve and I figure out a way to do it. Fortunately I love a challenge!
What do you like best about your job – and what are the challenges?
I love the travel and the autonomy. In some cases, I will visit places for a couple of days but I regularly spend extended periods in one location. The business culture differs in each place.
When I set up the US office, I spent three months in California living close to the beach. People there get so excited about the fact that you are manufacturing something in the US - I find it contagious.
What did you learn from your MBA?
Financial modelling has proved really useful and I have done quite bit of that. One of the biggest things I took from it was the importance of doing quality work. We all have a tendency to rush off an email and think the job is done, but if you spend bit longer making sure it reads well, people will be more likely to understand it.
What's next for you – and what's your vision for the future?
I will be staying with Tritium for a while as there is plenty more to do! Our Veefil fast chargers are already used in 22 countries, including on the 1,800km electric super highway, from the Gold Coast to Cairns, and on the new European Union network linking France to Belgium and the Netherlands.
The technology is constantly advancing. The current 50kW Veefil chargers will give drivers a 50km range in ten minutes but the new 350kW chargers which will be launched soon will provide a 350k range in ten minutes – close to what a gasoline car can do.
Ultimately our vision is to link together the different parts of the energy industry. Soon a car will not just be something that gets you from A to B, but a mobile energy storage unit that can power your house for days. If I have excess power, you will be able to store or capture it. As technology transforms the energy industry and opens up new opportunities, part of my role will be to develop the new business models that go with it.
Who has influenced your career most – and what is your motto in life?
My mum was very determined and made sure that if we started something, we finished it. I also love to read the words of Winston Churchill, in particular his famous line, 'if you are going through hell, keep going.' The moral is, never give up – if you are determined and persistent, eventually something will work out.