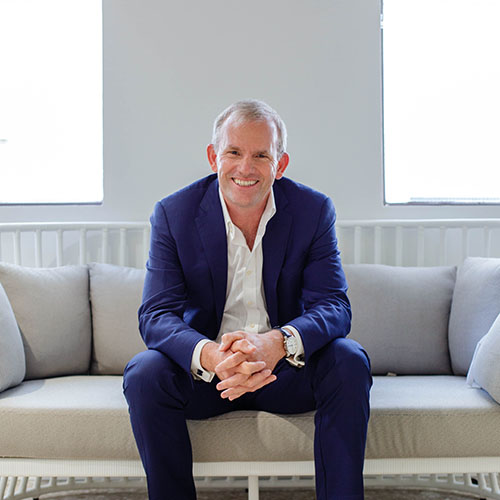 Ethics in business is the focus of a new million-dollar partnership between The University of Queensland and global business leader Mark Hutchinson.
Mr Hutchinson, a UQ alumnus and the former CEO and President of General Electric Europe, has donated $1 million and significant time and expertise towards establishing a Professorial Chair in Ethics at UQ's Faculty of Business, Economics and Law.
Mr Hutchinson said teaching students to understand and apply ethics in the workplace was a foundation stone for a good university education and a successful career. "For me, learning how to act with integrity and do the right thing is as vital as learning how to read and write," he said.
"When you talk to young professionals, they care about what an organisation values, how it behaves and if it has a good culture – it's seen in equal measure now to the salary, which is fantastic. They want to do the right thing, but they don't always know how, which is why it's so important that we teach ethics in ways that are practical and relevant to our future leaders and the situations they will face in their careers."
Mr Hutchinson will share his time and expertise as the faculty's executive-in-residence, helping students and staff understand how to navigate the complexities of ethical decision-making, training and leadership in business.
UQ Vice-Chancellor and President Professor Peter Høj said Mr Hutchinson's visionary gift and partnership would help transform teaching and learning in the faculty. "Mark is an exceptional alumnus and a talented business leader who has earned international respect and trust during his career,"
Professor Høj said. "We know from our Student Survey that 88 per cent of UQ students understand that learning skills and knowledge to help them create positive change in society is important to their education and their future.
"Our staff and students will benefit immensely from having direct access to Mark and his wealth of experience and success as an ethical leader.
"His generosity illustrates the fact there are many ways to support students and teaching through UQ's Not If, When Campaign.
"I hope our partnership with Mark inspires others in the business community to get involved to help ensure our next generation of business leaders are the best yet."
Mr Hutchinson said Australia could not afford to follow a fragmented approach to ethics education. "To truly prepare students to become ethical advocates in their future workplaces and communities, we need to engage them in an ongoing conversation as they encounter and resolve issues in real time," he said.
Mark Hutchinson will join Princeton University's Dr David Miller at a series of free community seminars hosted by UQ in Brisbane, Sydney and Melbourne this week, where they will discuss the role of ethics in modern society, business and organisational culture.