Ethical leadership and decision-making is the focus of a cross-disciplinary learning approach at The University of Queensland (UQ). Efforts to further embed the learning and teaching of ethics across a range of courses will be guided by a soon-to-be-established Professorial Chair in Ethics.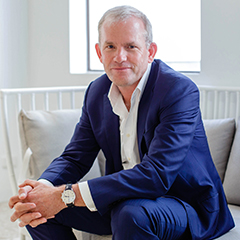 Mark Hutchinson, a UQ alumnus and the former CEO and President of General Electric Europe has donated $1 million and significant time and expertise towards establishing the chair at UQ's Faculty of Business, Economics and Law (BEL).
While work continues to raise the final contributions needed to endow the Chair, learning design experts – in partnership with Mr Hutchinson – have started developing ethical leadership education opportunities, which will be open to all UQ students to enrol in regardless of their school or study area.
Mr Hutchinson believes an integrated approach is necessary for leadership and decision-making in any area and isn't limited to just business.
"For me, learning how to act with integrity and do the right thing is as vital as learning how to read and write," he said.
"When you talk to young professionals, they care about what an organisation values, how it behaves and if it has a good culture – it's seen in equal measure now to the salary, which is fantastic. '
Mr Hutchinson said Australia could not afford to follow a fragmented approach to ethics education.
"To truly prepare students to become ethical advocates in their future workplaces and communities, we need to engage them in an ongoing conversation as they encounter and resolve issues in real time," he said.
A UQ Student Survey confirmed that a majority of respondents care about ethical and social impact. The survey revealed that 88 per cent of students understand that learning the skills and knowledge to help them create positive change in society is important to their education and their future.
UQ Advancement Director Ted Wynn said taking a student-centric view to pioneer a new generation of ethical leaders was at the heart of this pioneering approach. He believes the future appointment of the Professional Chair in Ethics and integrated approach to teaching ethics will provide future leaders with the skills to apply an ethical lens to the decision-making process across a broad array of industries and professions.
"It will not be 'ethics as usual', we want to avoid the siloed approach to teaching ethics within a specific discipline or professional area. "Instead, we see this as an opportunity to teach it in a way that transforms thinking and guides decisions regardless of industry," he said.
The topic of ethics has taken centre focus across UQ, with the appointment of the KPMG Chair in Organisational Trust appointed in January at the Business School, and the launch of new executive education courses which will also be released this year.
The new executive learning additions will allow professionals across any sector to enrol in short courses covering trust, ethics and governance.
If you would like to contribute to the Professorial Chair in Ethics, you can donate here: giving.uq.edu.au/funds, or alternatively please contact Anthea Barry: a.barry4@uq.edu.au or +61 7 334 60668