Rideshare e-scooters have had a positive effect on Brisbane tourism with many visitors finding them more convenient than public transport and cars, according to a report by University of Queensland researchers.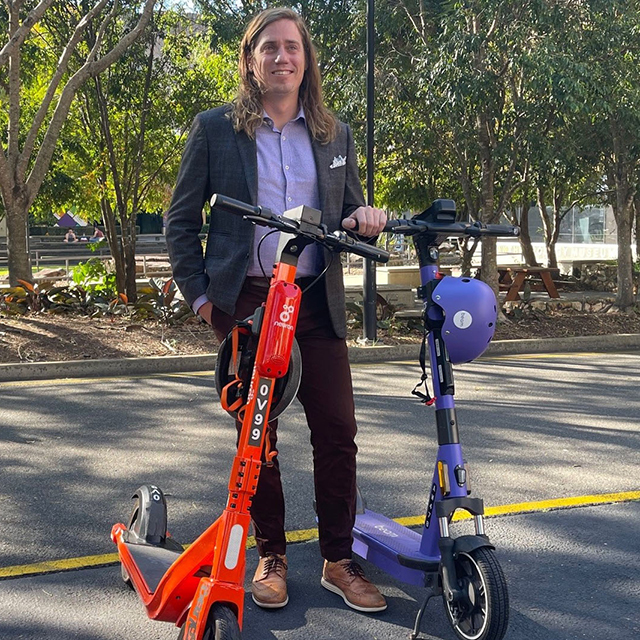 Lead author Dr Richard Buning from UQ Business School said the report, commissioned by Brisbane City Council, explored the perceptions and experiences of tourists and residents, and how they influenced the city's image.
"We assessed data collected from almost 1000 people who were surveyed in Brisbane's CBD including tourists, residents, users and non-users of rideshare e-scooters and e-bikes," Dr Buning said. 
"More than 80 per cent of visitors said e-scooters enhanced their experience when visiting the city."
Dr Buning said the research team was surprised to find people were using e-scooters and e-bikes as an alternative to public transport or traditional rideshare options.
"Many visitors thought Brisbane's public transport network could be easier to navigate and believed they'd miss the city's best sights when travelling by car," he said.
"However, they found e-scooters were easy to use and an enjoyable way to experience the city, with many regarding them as a tourism experience rather than transportation."
Dr Buning said perceptions surrounding the rideshare devices varied greatly depending on whether someone had used them – riders were highly positive, non-users were indifferent, and a minority thought they were a nuisance. 
Brisbane was the first city in Australia to adopt rideshare e-scooters in 2018.
"Over the past five years we've already seen numerous improvements to accessibility, safety and regulation of these devices, with Brisbane leading the country," Dr Buning said.
"This report identifies that e-mobility must be considered for transport and tourism planning and management, especially in anticipation of Brisbane 2032 when visitors will flock to the city and mobility will likely become a challenge."
The report also investigated barriers for those who didn't use e-scooters and e-bikes, with many identifying them as too expensive, too dangerous, too difficult to sign up to use or simply 'not for them'.
"Understandably, safety is a concern but regulation and infrastructure by governments can help lower this barrier, which will enable safe and accessible use and hopefully lead to further positive views of e-mobility, and Brisbane as a tourist-friendly city."
The research team included UQ's Wendy Pham, Milly Chen, Dr Dorina Pojani, Dr Mireia Guix Navarette, Professor Bob McKercher, Associate Professor Karen Hughes and Associate Professor Jan Packer, along with Griffith University's Professor Matthew Burke and Henry Trembath. 
The findings are contained in the report, So, what do you think about eScooter and eBikes?
Media: Dr Richard Buning, r.buning@business.uq.edu.au; BEL Communications, communications@bel.uq.edu.au