How can UQ's
flexible MBA
work for you? 
How can UQ's
flexible MBA work for you? 
One of the biggest obstacles to starting an MBA is finding a flexible program that can align and adapt with your schedule and priorities. Whether you're balancing responsibilities at home or working full time, the UQ MBA is designed to suit your life as it changes. Here are 2 hypothetical examples of how you can tailor UQ's flexible MBA to work for you.
Meet Tim, a full time UQ MBA student
After working in the tourism industry for several years, Tim was made redundant at the start of the pandemic and wanted to make the most of his time while looking for a new role.
He decided to level up his skillset by completing the UQ MBA. He enrolled in the accelerated full-time program and studied four courses each semester in his first year. After this, Tim was recruited into an exciting new role at Rio Tinto in the oil and gas industry.
Taking advantage of UQ's summer semester, Tim completed an additional course during the summer break.
Tim swapped to part-time study during his second year, enrolling in 2 courses in Semester 1 and 1 course in Semester 2. Following this pattern, Tim was eligible to graduate at the end of his second year of study. In his final year, Tim receives a promotion by successfully leveraging the fact that he will soon graduate from the UQ MBA program.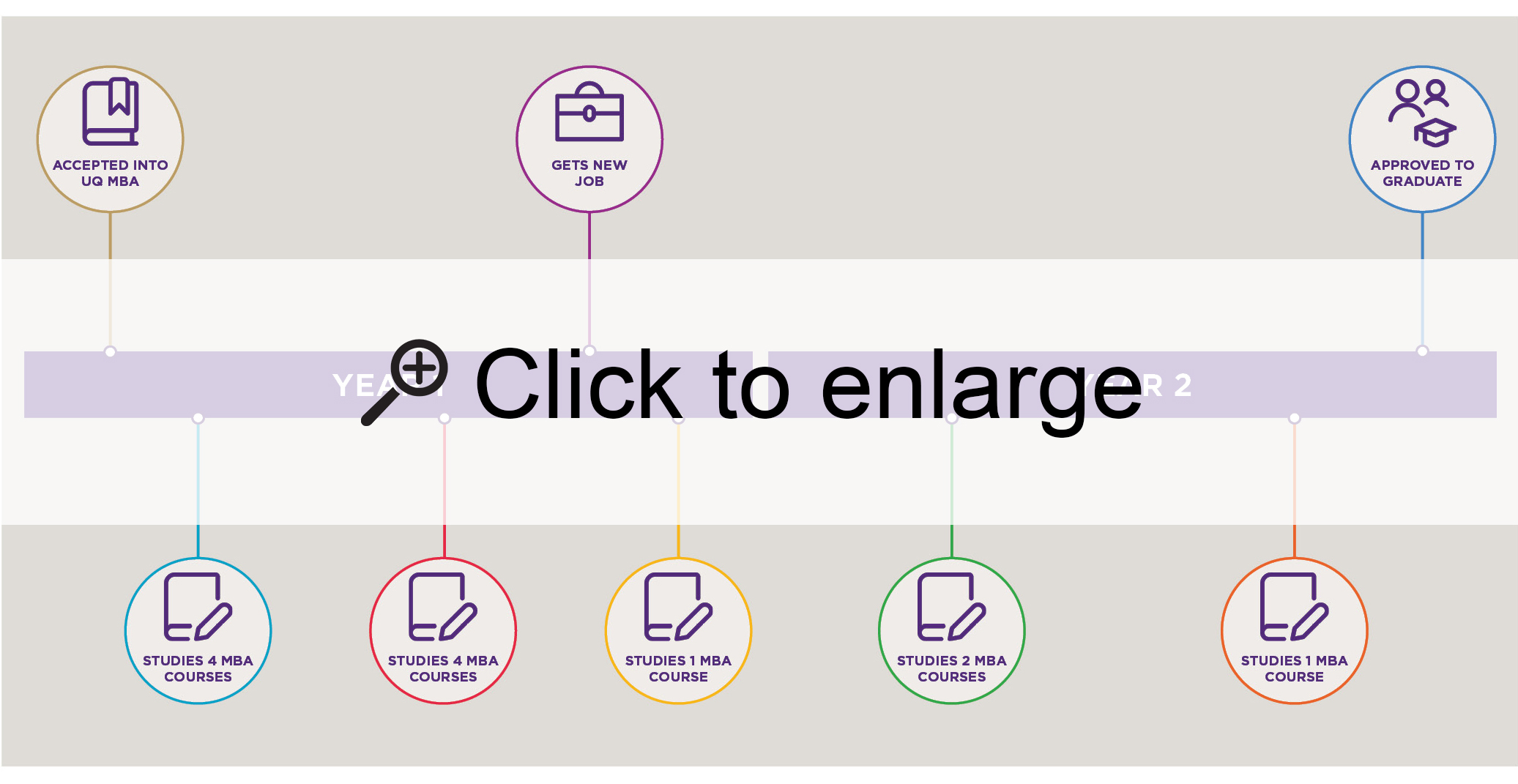 Here's an example of what a week for Tim might look like at the beginning of his degree, when he was studying full time.
Tim is:
married with two children and responsible for dropping of the kids to school Monday, Wednesday and Friday on his way into class.
enrolled in Marketing and Management, which has classes three times a week all day.
able to designate time on Thursday to study and work on assignments.
free on the weekend to play sport, go grocery shopping and hang out with his family.
It's important to note that Tim's weekly schedule would change throughout each semester depending on when his courses are offered.
Now, meet Maya, a part time UQ MBA student
After being accepted into the UQ MBA program, Maya opted for the part-time course load and enrolled in 2 courses for her first semester. She chose this option to get an idea of how she'll go balancing her new schedule with her full-time job. Maya was pleasantly surprised to find a good selection of courses offered at night and on weekends, meaning class time won't cut into her work time.
She also took advantage of UQ's summer semester, completing one course during this time. Over the Christmas break, Maya found out she was pregnant with her first child.
She continued to study 2 courses per semester until going on maternity leave from work. At that point, Maya enrolled into 1 course. After having her child, Maya took a break over the summer semester and first semester of the new year off.
Unsure how she'd go balancing being a new mum with work and study, Maya only enrolled in 1 course each semester after returning to work from maternity leave. She continued this pattern until she was approved to graduate at the end of her fourth year of study.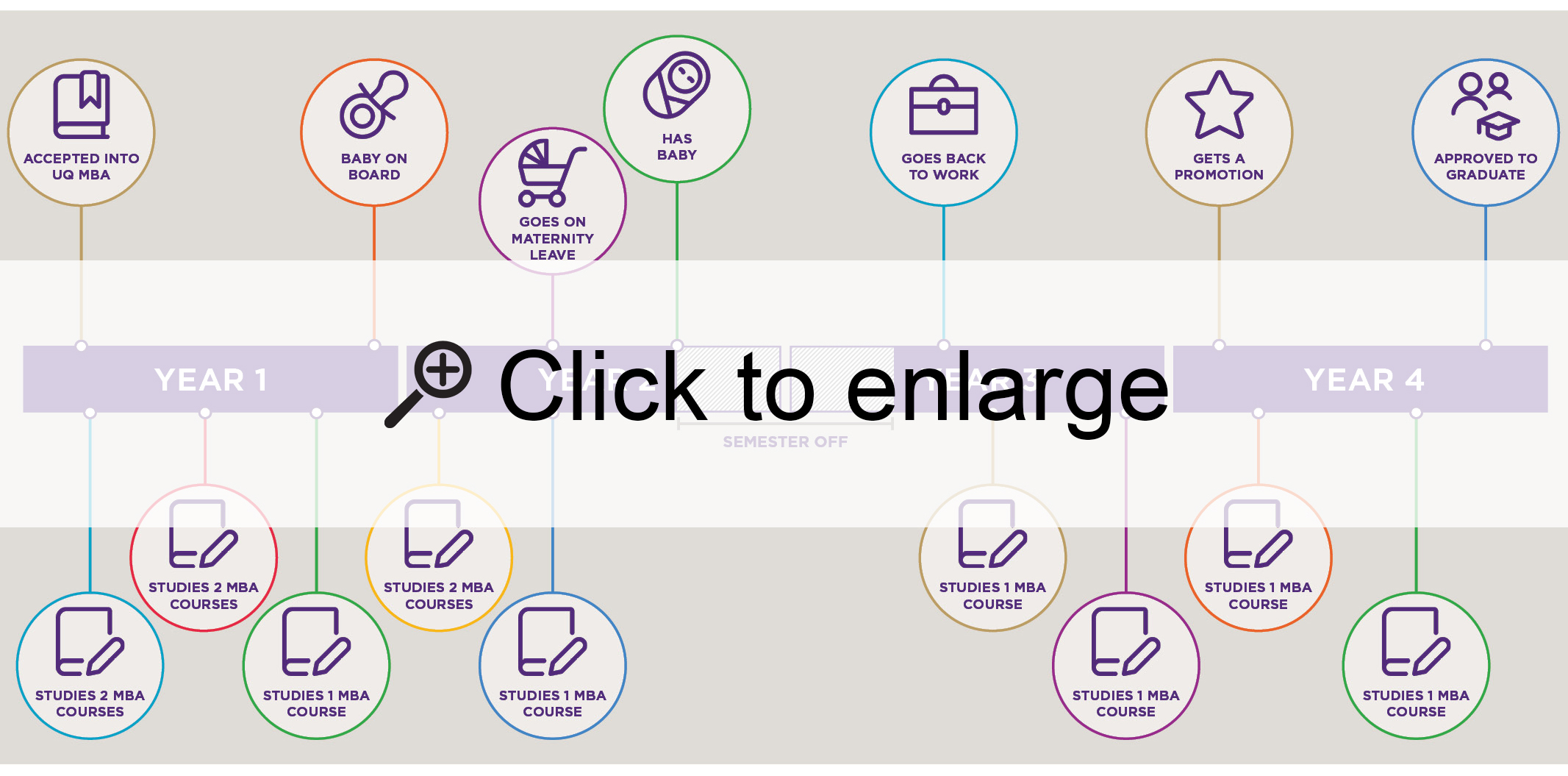 Here's an example of what a week for Maya might look like at the beginning of her degree, when she is working full time and studying part time.
Maya is:
working during the day and attends a night class between 5.30pm-8.30pm.
able to easily make it to class on time after work because she works in the city, where her classes are.
attending one all-day weekend class every Saturday.
free to make the most of her Sundays by hanging out with her partner and friends.
With flexible study options to suit everyone's busy schedule and career goals, there's a UQ MBA timetable to suit you. Learn how other UQ MBA students fit study into their busy schedules.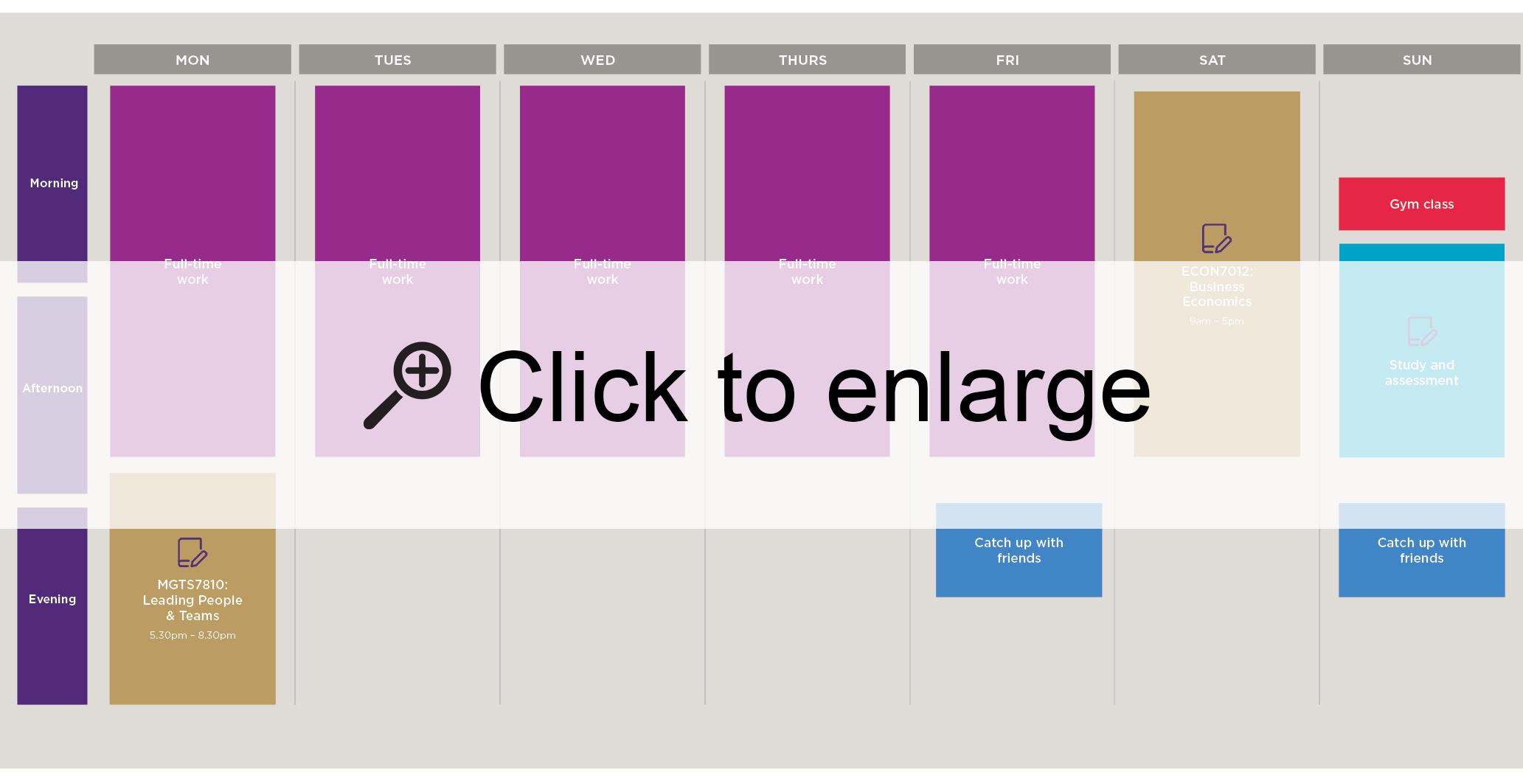 Discuss how you can fit the UQ MBA in your life with our MBA team