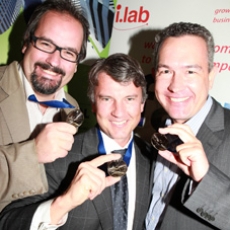 Innovative by name and by nature, Southern Innovation was last night named winner of Enterprize 2010, UQ Business School's $100,000 national business planning competition.
The team at Southern Innovation, led by Managing Director David Scoullar and his brother, Technical Director, and inventor, Paul Scoullar, are commercialising a breakthrough technology that will dramatically improve the performance of radiation detectors.
Named SITORO®, the technology is a digital pulse processing technique that accelerates the accurate detection and measurement of radiation in numerous industries including homeland security, mineral exploration, material science, scientific instrumentation, and medical imaging.
WINNERS OF THE 2010 ENTERPRIZE COMPETITION!
Southern Innovations core technology SI-Toro®, the subject of more than ten years of research and development and aims to improve the performance of radiation detectors.
Southern Innovation MD, David Scoullar, said winning $100,000 in the UQ Business School Enterprize competition would accelerate Southern Innovation along its existing path to commercialisation.
"We are honoured to win such an established and prestigious competition. It is certainly a validation of our technology and business plan that money can't buy.
"It has come at a great time for us because SITORO® is market ready and is currently being evaluated by numerous large international original equipment manufacturers.
"The $100,000 in seed funding will help us meet the costs of negotiating and drafting our first licensing agreements with these large, well resourced organisations.
"This win is an affirmation of our hard work and a reflection of a great team," he said.
The technology, which has been in development for over 10 years and is now market ready, has the potential to facilitate new applications of radiation detection and measurement that are currently impractical or impossible.
Head of UQ Business School, Professor Iain Watson, said the University was proud to support Australian entrepreneurs and congratulated Southern Innovation on their commitment to innovation in Australia.
"Southern Innovation are pioneers of one of Australia's most exciting and innovative ideas and UQ Business School is proud to recognise their ingenuity in the field of technology.
"As the winner of Enterprize 2010 Southern Innovation has been acknowledged as one of Australia's most exciting new companies and UQ Business School is confident they are a strong commercialisation prospect," he said.
Vaxxas, the team who developed Nanopatch a new generation technology that could improve vaccine performance 150 fold and replace the needle and syringe, was deemed 'people's choice' after securing 75 percent of the audience vote.
Finalists were required to submit a business plan in September and last night pitched their idea and business model to an expert panel of judges and an audience of venture capitalists and angel investors in Brisbane.
Now in its tenth year Enterprize received a record number of applications highlighting the innovation of Australian entrepreneurs.
This year's Enterprize competition was judged by a panel of experts including UQ Vice-Chancellor Professor Paul Greenfield AO, Venture Capital Fund Director Bob Christiansen, NBC Capital Managing Partner Bruce Scott, Manager of Venture Capital Attraction with the Queensland Government Stuart Gow, and OneVentures Executive Director, Anne-Marie Birkill.
Enterprize is a national business planning competition organised by University of Queensland (UQ) Business School to showcase innovative products and business models amongst potential investors.
For more information on Enterprize 2010 please visit www.enterprize.uq.edu.au.