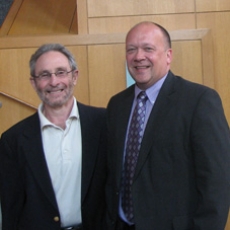 University of Queensland Business School MBAs will work with their peers at the Wharton School of the University of Pennsylvania as part of the Wharton Global Consulting Practicum (GCP) to develop strategy for Lorna Jane and OneSteel Australian Tube Mills.
The GCP is a cross functional course given within the Wharton M.B.A. program. Established in 1978, this unique program pairs teams of Wharton M.B.A. students and faculty with teams from partner universities around the globe to consult with a client company interested in entering or expanding in the U.S. market.
Both Lorna Jane and OneSteel will benefit from the input of ten MBA students (five from UQ Business School and five from the Wharton School). The student team will conduct detailed market research and identify opportunities as part of developing a market entry or expansion strategy for the client company.
Dean and Head of UQ Business School Professor Iain Watson said this partnership represented an outstanding opportunity for both the client companies and the students. He said, "The chance to contribute to the global success of an Australian company will be an experience like no other.
"To see your client company adopt your recommendations and watch as the strategy plays out over the next few years will be hugely rewarding for our MBAs. Our MBAs will have the opportunity to work with the top MBA students from the US and to develop a truly international network in a way that no other Australian Business school can offer"
Vice Dean for the Wharton Program for Social Impact and Leader and co-Founder of the Wharton's Global Consulting Practicum Leonard M. Lodish said the Practicum had an excellent track record of delivering value for client companies.
He said, "Our teams have delivered substantial financial success increasing revenues by $400 to $500 million dollars for clients across the globe.
"Data from the program, which has been running since 1978, shows an average 45-fold return on funds invested by client companies.
Director of UQ Business School Commercial Rob Douglas said multi-million dollar active brand Lorna Jane and manufacturer OneSteel Australian Tube Mills had signed up to be involved in the program.
He said, "These are great Australian success stories ideally placed to expand in the US market.
Bill Clarkson the CEO of Brisbane-based active-wear retailer Lorna Jane said the company planned to enter the US market in 2011.
He said, "This is a fantastic opportunity to harness the intellectual horsepower of two great business schools to help us take our business to the next level."
"The students will provide us with an assessment of opportunities in the US market, an analysis of the competitive environment, an internal resource and capacity assessment, and a strategic plan for market entry."
The other Australian company to benefit from the project is OneSteel Australian Tube Mills.
CEO Tony Schreiber said the company had already established a manufacturing facility in the US and was looking to expand its reach into the US market.
He said, "We think our revolutionary LiteSteel beam product has huge potential in the US market and we're keen to get these exceptional minds focused on our business.
We expect the students to deliver a strategic plan for market expansion including identifying target markets, distribution channels, and marketing tactics."
About UQ Business School
With dual accreditation from the world's pre-eminent education accrediting bodies, and an MBA program ranked in the world's top 100, University of Queensland Business School has an outstanding track record of delivering research that is relevant to practice, high quality teaching that inspires the next generation of leaders, and engagement with business that contributes to sustainable growth in our community.
About The Wharton School
The Wharton School of the University of Pennsylvania—founded in 1881 as the first collegiate business school—is recognized globally for intellectual leadership and ongoing innovation across every major discipline of business education. The most comprehensive source of business knowledge in the world, Wharton bridges research and practice through its broad engagement with the global business community. The School has more than 4,900 undergraduate, MBA, executive MBA, and doctoral students; more than 9,000 annual participants in executive education programs; and an alumni network of 86,000 graduates.
For more information about the Wharton Global Consulting Practicum contact Lisa M. Linn de Barona, GCP Associate Director at llinn@wharton.upenn.edu or visit www.whartongcp.org