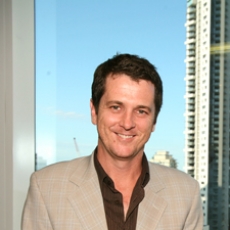 Twenty three MBA students hoping to graduate this year have just spent a week getting inside fellow MBA graduate Brett Clark's successful pharmacy businesses.
Having graduated with his MBA in 2005, Mr Clark provided the materials for this year's capstone course case study by opening up the books of ePharmacy and Chemist Warehouse.
Mr Clark is the founder and managing director of ePharmacy and the managing partner of Chemist Warehouse. Between them, the businesses employ more than 5500 staff and generate revenues in excess of $1 billion annually.
Student Vanessa Benson-Cassard said the case study was a high point of her MBA program to date.
She said, "Getting to grips with a successful business, analysing the data provided, and making recommendations to the founder was a fantastic learning experience."
"Its always fascinating to see that no matter how different the business seems from the outside, the fundamentals are very much the same in terms of marketing and branding, managing the human capital, and getting the financials right."
"Since Chemist Warehouse recently topped a consumer satisfaction survey with a 90.1% satisfaction rating, it's clear that the brand's price strategy is winning them loyal customers."
Mr Clark said he was impressed by the calibre of the students and the quality of their presentations.
He said, "It's good to see the UQ Business School MBA has continued to evolve and attract outstanding students."
"I'm very clear about the fact that my MBA has made a significant difference to my businesses. My pharmacy training, though essential, wouldn't have been enough on its own."
The capstone course, Integrated Strategic Analysis, is taught over an intensive week-long residential on the Sunshine Coast. It is the final course of 12 in the UQ Business School MBA, which has just been ranked 81 in the world by The Economist.