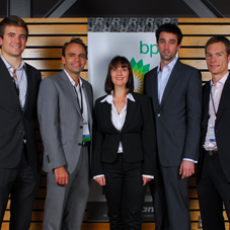 The UQ Business School Trading Team has finished 14th from 50 teams at the Rotman International Trading Competition, hosted by The University of Toronto this month.
The annual event hosted 200 competitors from across Canada, the United States, the United Kingdom, Italy, Thailand and China. Over three days and six individual cases, competing teams traded shares, bonds, gas futures contracts and index futures contracts in simulated markets. The competition was won by MIT (Massachusetts Institute of Technology), followed in second place by Chicago.
This year's UQ team comprised three Commerce (Honours) students – Alexa Freeman, James Lamb and Cavan Reid – and PhD candidate James Brotchie.
Highlights for the students were gaining fourth place in the Alpha ATS Sales & Trader Case (shares), and in the BP Canada Commodity Trading Case (gas futures). They also took fifth place in the CIBC Algorithmic
High-Frequency Algorithmic Trading Case (shares).
UQ has competed four times at the Rotman International Trading Competition, finishing third from 43 teams in 2010, eleventh from 36 teams in 2009, and sixth from 33 teams in 2007.
In a global market for graduate employment opportunities, the eighth annual event provided an outstanding opportunity for team members to demonstrate their skills in front of potential employers.
The consistent high performance of the UQ team is a reflection of their commitment to detail over two months of preparation in the lead-up to the event.