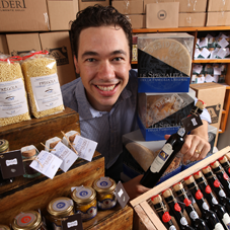 A passion for Italian food and entrepreneurship has proven to be a successful recipe for 2007 UQ Business School Master of Business (International Business) graduate Ben Cleary.
The second generation Italo-Australian recently established his own import and distribution business of fine Italian foods called Benfatti, which in Italian means 'well made'.
After motorcycling around Italy with his father in 2009 – tasting delicacies from the regions and meeting small artisan producers and local farmers – Mr Cleary began thinking of a way to bring 'hard to find' authentic artisan foods from the countrysides of Italy to the kitchens of Australia.
Two years later and Mr Cleary found the answer by launching Benfatti; a boutique online delicatessen and gift store which delivers Australia-wide (www.benfatti.com.au).
With his knowledge of international business, seven years industry experience and a strong passion for Italian food, Mr Cleary said he was able to turn a concept into reality.
"During my university years I was lucky enough to study in Bologna, a city known locally as 'La Grassa' (the fat one) in reference to it being the epicenter of Italian agriculture. My experience in Bologna and travelling throughout Italy made it impossible to not fall in love with my Italian heritage and all things Italian – the beautiful language, the way Italians live in the moment and of course their love and appreciation for simple but delicious artisan foods" Mr Cleary said.
"Through my Masters, I learnt a great deal about international trade and supply chains, the theory behind managing the international enterprise and how to develop new business ventures from scratch."
"My studies provided me with the skills to develop a well thought-out business plan for Benfatti and the confidence to get out there and capture market share by offering something unique to 'foodies', high end delicatessens, restaurants and the Corporate Gift industry".
Creating the business from Australia meant Mr Cleary needed to call on his family and friends in Italy to help him source the country's finest and most unique artisan foods, from precious black truffles to one of Italy's best mono-varietal extra virgin olive oils from the lesser known region of Le Marche.
"The international connections I made whilst at UQ Business School have been invaluable for bringing Benfatti to life and also in helping me think big; In the near future I plan to reconnect with my old classmates from countries other than Italy and in doing so work with them to expand the Benfatti product portfolio so that I can offer my customers traditional artisan foods from the world's best 'foodie' nations."