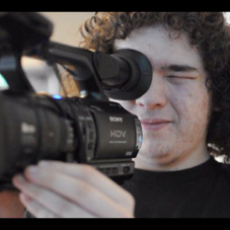 In a short space of time, University of Queensland Business School student Joshua Hammond has certainly lived a lot. With a successful filmmaking business already established, this 18-year-old has his mission all mapped out.
UQ Business School Senior Lecturer in Management Dr Nicole Gillespie said she was amazed at what Joshua had already achieved in his young career.
"I think it is great that Joshua is able to apply what we are learning in class to his business in real time," she said. "Not many first-year students have the opportunity to do that."
A filmmaker since the age of 12, Joshua said growing up in Longreach turned out to be a huge advantage for his career development, as the outback location was a popular destination for film crews.
"My first paid commission was to make a film in 2004 and around that time I was lucky enough to get to work with a crew doing some ads for QANTAS, and to also help out on (the ABC program) Australian Story," Joshua said.
His first major production was an advertising video for a tourism company called Kinnon & Co., which ended up being a huge success. Joshua said it was a particularly memorable event because his crew filmed the final shots on the morning of his 13th birthday.
Since then, Joshua has worked for a wide range of people and businesses, including Lonely Planet, Greyhound Coaches, Queensland Education, a World Games medallist, the Queensland Music Festival and the Ideas Festival. He has also managed to top these with a photography gig for country music artist Smoky Dawson at his final public appearance.
In 2009, things started to really take off when Joshua worked with Brisbane organisation Youngcare and community organisation s.p.a.c.e., where the film he made with CEO Alissa Phillips made it to the top 5 in a London Film Festival competition.
Now in his first year of an international business degree, Joshua said he was able to apply what he was learning in his studies to expand and enhance his business.
"I'm in the first stages of expanding my business (mdoar) from focusing only on film to becoming a full-service online, social, content and campaign management business," he said.
"So the business will now include a consistent management service where online presences on social networking sites are able to be managed, and their marketing strategies can be consistently implemented across the whole business – hopefully creating a uniform brand image."
Joshua said he believed creating relationships between businesses and customers in the online space was essential to marketing success.
"For smaller businesses, the focus is on education and I'm planning a few exciting things for that – but my personal favourite part of what's happening is that the business model will have the support of charity and community endeavours as a core part of operations, with my clients being able to opt-in to support this part of the business in broad or specific ways."