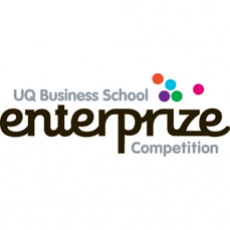 The race is on for innovative Australians with a great start-up idea to win $100,000 by entering the nation's richest business competition.
The University of Queensland (UQ) Business School today officially launched Enterprize 2011 – now in its 11th year.
Emerging entrepreneurs from around the country are being encouraged to create a business plan to be in the running for the lucrative prize.
With 100,000 good reasons to get involved, Academic Dean and Head of UQ Business School, Professor Iain Watson, expects a record number of excellent entries as each year interest in Enterprize grows.
"We've had an extraordinary and diverse range of smart ideas and business models put forward over the years, and we are proud to reward the best with $100,000 in seed capital."
Since its inception in 2001, the UQ Business School Enterprize competition has showcased dozens of innovative ideas and products to potential investors and provided seed capital to promising start-up ventures. These include:
2010 winner, Melbourne-based Southern Innovation, which is hoping to see a product using its revolutionary technology on the market before year's end. Its patented digital pulse processing technology SI-TORO speeds up the way data is analysed in devices which detect and measure radiation, such as X-ray machines, CT scanners, and equipment which detects drugs, explosives and landmines.
2009 winner CoolMe, a disposable, lightweight vest which creates an intense cooling effect, to ease heat stress suffered by firefighters and others working in extreme conditions.
2008 winner Bilexys, a resource recovery technology that can extract valuable chemicals from a company's wastewater. These chemicals can be reused, saving money and reducing the business's carbon footprint.
Southern Innovation Managing Director, David Scoullar, said: "Winning the UQ Business School Enterprize competition gave us a huge boost at a critical time – we are now focusing on licensing our technology to a US company for global release."
Enterprize successes range from medical and scientific breakthroughs, to commercialising open source software solutions and developing alternative fuels. Other successful Enterprize winners include Codesion Cloud Services, which pioneered online source code management, and Hydrexia, which developed new hydrogen storage technology solutions based on novel magnesium alloys.
Enterprize 2011 entrants must submit their concept plans by July 22 and the finalists will be announced in August. Finalists will then have a chance to impress the judges, venture capitalists and angel investors at a "Pitch Day" in October, when the winner will be chosen.
The five expert judges this year are: Manager of Venture Capital Attraction, Invest Queensland, Department of State Development & Trade, Stewart Gow; NBC Capital Managing Director & Chief Investment Officer Bruce Scott; OneVentures General Partner Anne-Marie Birkill; Southern Cross Venture Partners Founding Manager Bob Christiansen; and Chief Executive Officer of i.lab, Colin Kinner.
For more information, entry requirements, to view videos of past winners and finalists, and to enter Enterprize visit www.business.uq.edu.au/enterprize
For media inquiries, please call:
Samantha Kennerley, UQ Business School on phone (07) 3346 8068 or mobile 0433 130 085
Colleen Clur, Niche Consultants on phone (07) 3368 1230 or mobile 0418 253 340