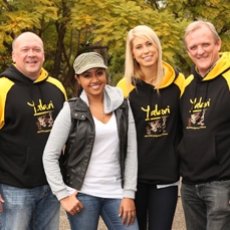 The UQ Business School recently hosted 26 Indigenous high school students from across Australia at the first Yalari Horizons leadership camp aimed at inspiring and supporting young achievers.
Yalari Horizons leadership camp was held over three days in early July 2011 at UQ's St Lucia and UQBS Downtown campuses where executives and celebrities, including many of Aboriginal descent, shared their stories for success.
The camp aimed to inform students about the challenges that they may face when entering the business world and to inspire them to aim high so that they can overcome challenges.
Four UQ MBA students hosted the camp as part of the UQBS MBA Social Economic Engagement program which encourages students to participate in community projects.
MBA students do not receive credit or payment for their participation in these projects but do so to make a positive contribution to their community.
Seven Australian leaders spoke about their own backgrounds, struggles and achievements on their way to becoming successful in each of their fields.
Students were left inspired and moved by the speakers, particularly by a special performance and talk by 2006 Australian Idol runner up and chart topping singer Jessica Mauboy.
The Dean and Head of School Professor Iain Watson said:
"Jess (Mauboy) was a highlight of the camp for many of the students."
"She was very relaxed and open when speaking to the students and they all felt a real connection to her and her story," he said.
She shared about her life growing up in Darwin as a shy aspiring singer and how she grew into an award winning artist spending the early part of 2010 in LA working with leading producers and singers such as Snoop Dogg and Ludacris on her new album.
Another highlight of the event was a dinner hosted at UQ, St Lucia where the students were addressed by Paralympic swimmer Karni Liddell who also acts as an ambassador for a number of disability related sporting groups.
Karni spoke of her battle with Spinal Muscular Atrophy and the physical and mental barriers she overcame to become a record holding Paralympic swimmer, breaking her first world record at age 14.
"Each of the speakers were very honest and approachable in their speaking and managed to connect on a deep level with the students," said Professor Watson.
"I believe this camp was a great success and will have a lasting impact on the students' lives and future career choices," he said. "We are committed to supporting and encouraging Indigenous students, to have fun with education and to embark upon a journey of lifelong learning independent of the career they may choose."
Other speakers included Jack Manning Bancroft the Founder and CEO of Australian Indigenous Mentoring Experience (AIME), Michael Combs Founder and CEO of CareerTrackers Indigenous Internship Program, Neil Willmett Founder and Managing Director of Willmett Consultants, Natalie Walker CEO of Australian Indigenous Minority Supplier Council (AIMSC) and Mark Yettica-Paulson Founder and Director of The Yettica Group.