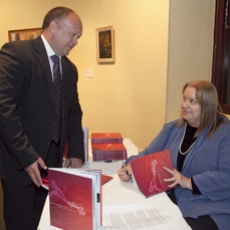 Distinguished author and lead writer on the Australian, Tess Livingstone, joined a dinner at the University of Queensland Business School in May. Tess, author of 'The Power of 100: The 100 Women Who Shaped Australia" joined recent participants of the Corporate Education Course Leadership Course for the not for profit sector at Brisbane's Customs House.
From writing her book, Tess observed that of the 100 Australian leading women many had been closely involved in Not for Profit organisations and indeed several had founded them. Tess spoke at length at the dinner on how difficult it was to choose just 100 women and the selection criteria for them. Her book identified that some common attributes amongst the top 100 were perseverance, dedication and compassion.
On the evening, Tess presented a copy of her recently published book to Professor Iain Watson, Academic Dean and Head of UQ Business school. The book was commissioned by Westpac for International Womens Day. Professor Watson said: "At UQ Business School we feel it is vitally important that women in leadership think in new ways and have executive courses tailored specifically to them. Tess' book is a testament to some outstanding Australian women . As a graduate of UQ we were delighted to have her share her thoughts with us which were very well received by all."
According to the Financial Times, the University of Queensland Business School Corporate Education Program is ranked 47th in the world, whilst The Economist ranks its MBA program within the top one per cent in the world.