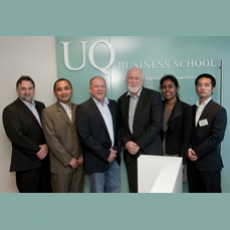 The differences between male and female business leaders, ways to improve financial audits and an investigation into the banks' exposure to risk were the winners of a competition to find the best research projects by students at the UQ Business School.
The 13th Annual Research Students Colloquium showcased research ideas by over 30 Honours, Master of Philosophy and PhD students. Terrance Fitzsimmons, Agung Dodit Muliawan and Khoa Hoang were named as winners of the best abstract awards, each winning $500 in prize money.
Three other students - Rahmat Shazi, Upamali Amarakoon and Michael Poulsen – were given special mentions on the day for their work in the fields of innovation, HR and finance.
Other research subjects presented at the Research Colloquium included how to enhance the quality of sports leadership to support youth development, managerial practices in Australian not-for-profit organisations, the importance of brand integration and brand familiarity, 'tit for tat' retaliatory behaviour in business and modern portfolio management.
In the last six years the UQ Business School has generated over $5 million in competitive research funding from the Australian Research Council and other funds, published over 1,000 refereed journal articles, book chapters, books and refereed conference papers. The UQ Business School has one of the largest PhD programs of any business school in Australia.
Professor Iain Watson, Dean of UQ Business School, said: "The Research Colloquium gives students a valuable opportunity to present the abstracts from their thesis and receive support and constructive feedback from academic staff and peers. "UQ Business School is well known nationally and internationally for its outstanding applied research and strong links to the business community. Working with industry ensures that our degrees meet industry needs, and that our services add real value to business."
The UQ Business School is an integral part of the research-intensive University of Queensland. With dual accreditation from the world's two pre-eminent education accrediting bodies, a world ranking in the Top 100 by The Economist for its MBA program, a number two ranking in Australia by BOSS Magazine, and a ranking in the Top 50 in the world by the Financial Times for its Corporate Education program, the University of Queensland Business School ranks amongst the elite global leaders.
In the 2010 Excellence in Research for Australia (ERA) UQ Business Schools 'Business and Management' and 'Finance' Research was rated as well above world standard whilst 'Accounting; and 'Marketing' were rated as above world standard.
Best abstract winners:
Best Abstract for a Confirmed Candidate: Terrance Fitzsimmons - Factors responsible for gender disparity among chief executive officers in large Australian Companies
Best Abstract for a Provisional Candidate: Agung Dodit Muliawan – Improving audit quality through the innovative use of generalized audit software
Best Abstract for an Honours student: Khoa Hoang – An empirical investigation of market discipline and bank risk exposure.
Special mentions:
Rahmat Shazi (Confirmed PhD candidate) - Characterisation of idea generation and idea realization networks
Upamali Amarakoon (Provisional PhD candidate) - The role of innovative human resource architecture in the competitive strategy of Australian organizations
Michael Poulsen (Honours student) - Financial inflexibility and the value premium.