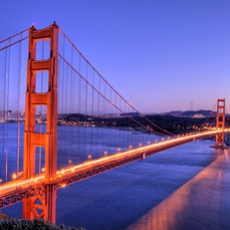 UQ Business School students Heidi Hunter and Victoria Sing are competing against students from across the country in the 2011 Student Challenge run by The Institute of Chartered Accountants in Australia. Heidi and Victoria, both in their second year of Bachelor of Commerce, will join 18 students to battle it out at the final in Sydney tomorrow.
The challenge takes students out of the classroom and into the real world. This year's challenge asked participants to apply their business acumen, creative thinking and analytical abilities to a real-life business problem facing the Australian Conservation Foundation.
Professor Iain Watson, Academic Dean and Head of UQ Business School said: "I would like to congratulate Heidi and Victoria for making it this far. At UQ Business School we believe that teaching, research and consulting are all crucial in creating a learning environment that creates the maximum benefit for our students. It's also competitions like this that allow our business students to be put into high-pressure situations that prepare them for the workforce."
The high standard of the entries was outstanding, said the Institute of Chartered Accountants in Australia CEO Graham Meyer.
Heidi, Victoria and the rest of the state finalists will be flown to Sydney to network and dine with high-profile industry figures and potential employers. To equip them for the final presentation, and prepare them for the start of their careers, each finalist will be treated to corporate attire, selected with the help of a personal stylist. Their presentation and interview skills will also be honed by leading coaches.
Heidi said: "The Student Challenge has been a great way to put our university theoretical knowledge into practice by designing a spreadsheet tool for the ACF. I am very excited to have been chosen as a finalist and am looking forward to the two-day reward in Sydney!"
Victoria said: "I was ecstatic when we found out we were the state finalists. The Chartered Accountants Student Challenge has provided me with valuable insight into the accounting industry as well as practical experience through a real-life accounting problem with consideration for the environment. The award as a finalist has given me a fantastic opportunity to network with some of the top professional services firms in the country and further my career prospects. I am honored to have received this award."

The overall winner(s) will be flown to San Francisco to be mentored by Australian FCA Robyn Denholm, Chief Financial Officer and Executive Vice President of Juniper Networks, a multinational information technology and computer networking company.
Ms Denholm said: "I would not be where I am today without the support and guidance of industry leaders and professional mentors, so I'm delighted to share my experiences with the 2011 Student Challenge winners.
"I look forward to working with the winners and I am excited to introduce them to the professional landscape while enjoying some 'Aussie camaraderie' in my American workplace."
Targeting business, finance and accounting students, the 2011 Student Challenge is a one-of-a-kind online business competition.
The 2011 Student Challenge is open to undergraduate students studying at an Australian University and directed at students studying a business, finance or accounting-related degree