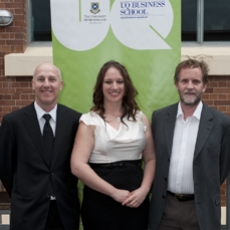 The innovators behind commercialising a world-first drug to delay cataracts from forming, and slow their growth, have been named the 2011 winners of The University of Queensland (UQ) Business School's $100,000 ENTERPRIZE competition.
Academic Dean and Head of UQ Business School, Professor Iain Watson, congratulated the Adelaide-based Calpain Therapeutics team on winning Australia's richest business plan competition.
"Calpain Therapeutics is pioneering a novel drug with application to the eye health of people around the world,'' Professor Watson said.
"The proposition of the drug is to significantly slow down cataracts on their path to causing blindness.
"With severe cataracts the leading cause of blindness around the world, the Business School is proud to support such a visionary innovation."
Calpain Therapeutics co-founders Dr Tim Lovell and Professor Andrew Abell, with team member Dr Victoria Kopetz, accepted the winner's cheque last night after a final business pitch to the Enterprize judges at Pitch Day, held at the Brisbane Powerhouse.
The UQ Business School also had reason to celebrate last night, after its MBA program was ranked in the top 50 in the world by The Economist. It is one of only two Australian universities named in the top 50, ranked 46th (up from 81st last year).
Dr Lovell said the Calpain Therapeutics team was "thrilled to have won such a prestigious competition as Enterprize" - especially on what was World Sight Day (a global initiative to raise public awareness of blindness and vision impairment as major public health issues).
"The $100,000 Enterprize prize money will enable us to complete key human lens experiments, the next step before clinical trials. We will be able to start those very soon, and complete them in three to six months.
"Going through the Enterprize competition judging process has also been invaluable for us. It forced us to focus on and refine our business plan, to hone an engaging, informative business pitch to put to investors."
Calpain Therapeutics' drug targets a protein in the eye's tissue. This protein, when activated by various triggers, causes the cataract clouding of the eye's lens.
Although most cataracts develop as people get older, they can also be caused by diabetes, eye injury, exposure to ultraviolet light from sunlight, long-term use of steroid medication, smoking and heavy drinking. The International Agency for the Prevention of Blindness estimates that almost 18 million people are blind from cataracts. Many of those are in the world's poorer regions.
Currently, the only treatment for severe cataracts is to have the cloudy lens surgically removed and replaced with a synthetic lens. More than 200,000 cataract surgeries are performed in Australia each year and about 3.4 million a year in the United States. There are often long waiting lists in public hospitals for the surgery.
Dr Lovell said the Calpain Therapeutics drug could be either drops or a cream "that you put in your eyes each night before you go to sleep".
"Through a routine eye examination, optometrists and ophthalmologists can see the early stages of a cataract forming,'' he said. "Once it's detected, then you could start to use the drug to slow its progress.
"And because we know that if you have a cataract in one eye you will most likely get one in the other eye, you could start to apply the drug to both eyes, delaying the onset of a cataract in one while slowing the growth of the cataract that has been diagnosed.
"We see it as akin to brushing your teeth each day. You do that to prevent cavities. This would be a drop each day to prevent cataracts.
Since its inception in 2000, the Enterprize competition has assisted many successful businesses, including Fusion Sport, Codesion (formerly CVSDude), BakBalls, last year's winner Southern Innovation and finalist last year Vaxxas (which is pioneering the Nanopatch needle-free vaccine delivery system).
This year a record number of entries were received.
** Dr Tim Lovell, Calpain Therapeutics, can be contacted on phone 0488 122 893, or email tim@calpaintherapeutics.com
For media inquiries, please contact:
Colleen Clur, Niche Consultants on phone (07) 3368 1230 or mobile 0418 253 340
Samantha Kennerley, Head of Marketing at UQ Business School, on 0433 130 085