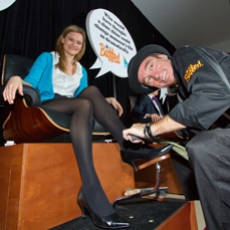 MBA students have helped to launch a social business which provides marginalised young men with an opportunity to run their own shoe shine operation.
Buffed, which was launched recently by the Wise Foundation and BOQ, is Australia's first social franchise business and aims to empower individuals who want to work but whose opportunities are limited.
As a part of the Social Economic and Engagement Program (SEEP) at UQ Business School, MBA students assisted with the market research, business plan development, and gained corporate funding to help support the business model for Buffed.
SEEP Director, Neil Paulsen said: "This SEEP initiative is a voluntary option for UQ Business School MBA students. It allows them to work with non-profit organisations and in return gain some truly unique experiences.
"The Wise Foundation assists marginalized people to achieve meaningful participation in the community and together with our MBA students, they were able to develop an innovative economic model that could benefit individuals who are currently unemployed or underemployed," he said.
The Buffed shoe shine stand franchise network will operate initially in Brisbane CBD sites with future plans for expansion into Melbourne and Sydney in early 2012 followed by a national rollout.
"Buffed provides opportunities for individuals to secure their future through small business ownership, with each Buffed shoe shine site owned and operated by individuals under a franchise model," Neil said.
Graeme Wise, Chairman of the Wise Foundation, said: "Buffed not only helps the franchisees' immediate future but will set them on their way to achieve their long term aspirations.
"Buffed is focused on the development of an innovative social infrastructure that will provide a platform of opportunity to people who rarely, if ever, are presented with these prospects. For some individuals it may be the start of a business career while for others it is simply a solid albeit life-changing stepping stone to achieve even greater things," he said.
The launch was attended by many of Brisbane's leaders in the corporate, non-profit, academic and government sectors, who were keen to understand how social innovation and common market structures are being positioned to address systemic social issues such as unemployment.
The inaugural Buffed shoe shine franchises will be opening across Brisbane's CBD within the next few weeks in premium office tower foyers, retail arcades and transport nodes.
For more information about how you can do a MBA at UQ Business School visit www.business.uq.edu.au/mba or to find out more information about Buffed visit www.buffed.org.au