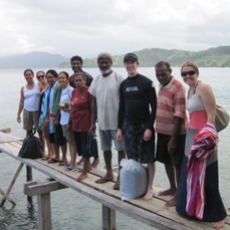 Pearl farmers in Fiji are set to benefit from the expertise of UQ Business School students. Five MBA students from the school have spent a week in Savusavu, Fiji working with a small group of pearl farmers to help them improve their livelihood.
The students were looking at how a new economic model could be used in subsistence farming. They presented a workshop and worked on a one on one basis with the pearl farmers to adapt the model to their farms. They also collected data to evaluate the program and improve it for future interventions.
The Fiji project is part of a wider government initiative to help overcome poverty in Pacific island countries. Participation was a voluntary option for UQ Business School MBA students and arranged through the Social Economic Engagement Program (SEEP).
SEEP Director, Neil Paulsen said: "The SEEP project allows students to work with non-profit organisations in return for some truly unique experiences. It's a fantastic opportunity for them to take what they learn in their courses and apply it to industry."
Before heading to Fiji, the MBA students travelled to Nambour to work with Bill Johnston, Senior Principal Agricultural Economist from the Department of Employment, Economic Development and Innovation, to gain a better understanding of the economic model and take an accelerated course on pearl farming so that they could successfully integrate the two.
One of those who took part, Justin Golding, said: "The pearl farming industry in Fiji is in its infancy. Local communities are trying to participate in the industry to generate much needed jobs and sustainable livelihoods so being to apply the lessons from my MBA in this context was extremely rewarding.
"By helping local farmers to model and plan their business, and thereby avoid potential pitfalls, we were able to make a real difference in a local community."
Another student, Brenda Jahnke, added: "For years I have been involved in community volunteer and development projects, but none has been as insightful, engaging or meaningful as the PARDI project in Savusavu, Fiji. This project gave me the chance to utilise the skills and understanding developed during my MBA and apply it in practical use."
A similar project in Tonga is currently being investigated for 2012.
For more information on how you can do an MBA at UQ Business School or more on the SEEP projects visit www.business.uq.edu.au/mba or email mba@business.uq.edu.au