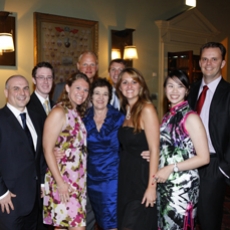 A 'truly outstanding' MBA student who is also an 'authentic leader' is celebrating a double success in the UQ Business School MBA awards.
Justin Golding was not only named as the 2011 Top MBA Student but also carried off the Director's Award for Leadership. The awards were presented before an audience of over 80 students and staff at the annual MBA awards dinner, which took place at Customs House in Brisbane and featured Olympic gold medal winner Duncan Armstrong as master of ceremonies.
Justin has spent 12 years with the international cleaning products manufacturer SC Johnson, during which time he has held roles in operations, manufacturing, and supply chain management in Australia, Japan, the UK, and Argentina.
He won the Top Student Award for academic excellence across all subjects and also impressed judges with his leadership skills. Associate Professor Polly Parker, MBA Program Director, said the panel had described Justin as "truly outstanding". She added: "He clearly articulated the qualities of a leader and demonstrated deep insights into the processes of leadership and the ways he influences others in positive ways. He provided many global examples from his experience in industry that have shaped his leadership and he has modelled these qualities throughout the duration of his MBA both inside and outside the classroom."
Justin volunteered for two projects as part of the school's Social Economic Engagement Program (SEEP). He worked with Melanoma Patients Australia in Brisbane and also travelled to Fiji to help pearl farmers improve their businesses.
Meanwhile the judges awarded a commendation for leadership to David Hansen, praising his 'thoughtful approach to leadership' and his 'respect for his followers'. David was also one of three students who received awards for academic excellence, the others being Justin Corlett and Pekka Heikura.
This year for the first time the Service to Community Award had two winners - Zoe Black and Jaclyn Knight. The award was presented by Kate Ashton, CEO of the Prince Charles Hospital Foundation, who said the judges had been equally impressed by both women.
Kate commended Zoe's 'personal journey' from mining and construction to the not-for-profit sector and her aim to redefine the sector as 'unless we make a margin we cannot fulfil our mission'. Zoe is currently Director of Strategy & Planning at the Australian Communication Exchange, which helps people with communication problems.
Kate also praised Jaclyn, who is Internal Communication Manager with Thiess, for her strong values and commitment. "Jacki demonstrates an ability to think across the sectors realising that corporate social responsibility is increasingly becoming a business imperative," she said. Jaclyn was involved in the school's SEEP program, working on the Yalari project to help indigenous school children and Melanoma Patients Australia. She was also involved in the MBA Shoe Shine project.
Sally Bledsoe was the winner of the Dr Margaret Mittleheuser AM and RBS Morgans Ltd Prize in MBA Accounting and Finance, which was established in honour of Australia's first female stockbroker.
Professor Iain Watson, Executive Dean (Acting) Faculty of Business, Economics and Law said: "The 2011 MBA students represent the business leaders of the future. It's great to see how the MBA program has not only helped them to gain skills and knowledge but also to develop as people, ready and capable of leading others. These awards recognise the outstanding achievements of individuals who have taken part in the program. We wish them all the best in their future career."