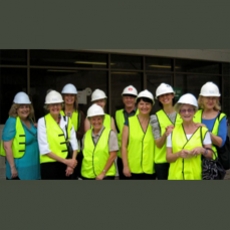 Second Chance, a charity working for homeless women in south-east Queensland, which is supported by UQ Business School, is in the running for a prestigious national award.
It has reached the finals of the inaugural National Homelessness Services Achievement awards, which recognise extraordinary work by organisations delivering services to the homeless. Second Chance is one of three finalists in the category for 'Outstanding business or philanthropic commitment to addressing homelessness'.
The finalists were announced by the Minister for Housing and Homelessness, Robert McClelland. The winners will be revealed at the awards ceremony on 22 March 2012 at Parliament House in Canberra. Second Chance raises money to ensure women are not just given a roof over her head for the night, but assisted into safe, permanent homes. It does this through emergency beds for rough sleepers; safe havens in shelters for abused women and children; permanent low-cost accommodation and furniture packages for women with nothing.
UQ Business School sponsors its series of breakfast fundraising events and will be collaborating with the charity to carry out research and produce a documentary to raise community awareness of what is often a hidden problem. MBA students are also working with Second Chance as part of the school's Social Economic Engagement Program.
Academic Dean and Head of School, Andrew Griffiths said: "We have long been impressed by the achievements of Second Chance and are delighted that it has reached the finals of these awards. Homelessness amongst women has been very much a hidden problem but Second Chance has made great strides in raising awareness of the issue and providing a safe haven for women who would otherwise be sleeping rough."