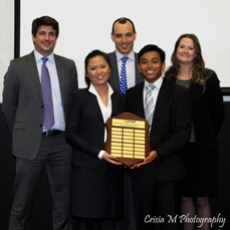 Two students from UQ Business School have beaten over 140 other teams to win a national consulting competition.
Johna Boo and Audi Mulyono were presented with $4,000 prize money following their success in the FMAA National Management Consulting Competition. They have also brought back the trophy to Brisbane where it will be on display at UQ Business School for the coming year.
The duo impressed judges with their strategy for how a children's charity could secure sufficient donations for its Christmas appeal. They presented their ideas at the finals in Sydney, competing against other finalists from the University of Sydney, the University of Melbourne and University of New South Wales.
A member of the charity - The Smith Family's Toy and Book Appeal – was on the judging panel, along with representatives of Macquarie Bank and L.E.K. Consulting.
The competition is run by the Financial Management Association of Australia, the largest student finance association in the country.
Professor Andrew Griffiths, Dean of UQ Business School, said: "We would like to congratulate Johna and Audi. Competition for this prize is very tough so winners have to achieve a high standard. Their success illustrates the practical nature of the teaching at UQ Business School. As many of our lecturers are consultants themselves, our tuition is very much in tune with real-life business needs."