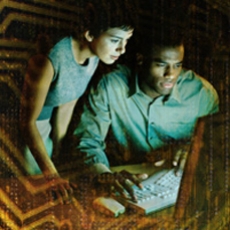 Seven UQ Business School academics have won grants worth over $1 million to fund their research projects. They are all working on projects which have been awarded Discovery Project grants from the Australian Research Council. The Discovery Projects scheme aims to support research, expand Australia's knowledge base and encourage international collaboration.
Dr Marta Indulska and Professor Peter Green are investigating 'business process decomposition' – how to manage complex business processes by breaking them down into smaller segments.
Dr Neal Ashkanasy is part of a team looking at workers' anger about being unfairly treated at work, while Dr Tyler Okimoto is carrying out research into 'collective apologies' – where nations apologise over current or past wrongdoing.
Meanwhile Professors Robert Faff, Allan Hodgson and Tom Smith are part of a group studying the economic cost of insider trading.
Professor Faff, who is also Director of Research at UQ Business School, said: "The Discovery Projects scheme is one of the most important sources of competitive funding for research in Australia. We are delighted that the projects we are involved in have been awarded such significant sums in the latest round. All four projects tackle important issues for business and society and all will contribute to advancing our global knowledge."
Professor Andrew Griffiths, Dean of UQ Business School, added: "UQ Business School is renowned internationally for the quality of its research. This latest success is a further tribute to our researchers and highlights the fact that they are at the cutting edge of discovery in many important areas."
The projects receiving funding are:
The economic cost of insider trading - culture, legislation, governance, gender and crisis
Prof Allan Hodgson; Prof Robert W Faff; Prof Tom Smith; Dr Sirimon Treepongkaruna; Prof Dr David J Hillier; Dr Suntharee Lhaopadchan
2013 $131,485.00; 2014 $115,755.00; 2015 $157,245.00 - Total $404,485.00
Does a country's culture and firm governance affect returns to insiders and/or general trading costs? Do uninformed insiders benefit at the expense of outsiders? By extending research internationally on these important equity issues, feedback is provided on best practice to increase information availability and reduce unscrupulous gains to insiders.
Business process decomposition
Dr Marta K Indulska; A/Prof Jan Recker; Prof Peter F Green
2013 $74,000.00; 2014 $80,000.00; 2015 $80,000.00 - Total $234,000.00
This project will develop guidelines to assist analysts in managing complex business processes by decomposing them into more manageable processes. The project outcomes will make it easier to make informed decisions about process re-design, business innovation or software development, thus contributing to project cost savings.
Managing anger responses to perceptions of unfair managerial treatment
Dr Sandra A Lawrence; Prof Peter J Jordan; Prof Neal M Ashkanasy; Dr Ashlea C Troth
2013 $80,000.00; 2014 $81,000.00; 2015 $85,000.00 - Total $246,000.00
Workers' experience of anger at work can be distracting and result in lower performance, which contributes to lower productivity in the Australian economy. This project seeks to understand this phenomenon and offer solutions for minimising the impact of anger at work for both individuals and workgroups.
Identifying and resolving challenges to the effectiveness of collective apologies
Dr Michael Wenzel; Dr Tyler G Okimoto; Prof Matthew J Hornsey
2013 $80,000.00; 2014 $70,000.00; 2015 $80,000.00 - Total $230,000.00
It is increasingly common for nations and organisations to apologise for current or past wrongdoing. This research investigates the unique psychological reasons for why collective apologies (as opposed to interpersonal ones) might struggle to win acceptance for victim groups; with an eye to identifying conditions that facilitate intergroup forgiveness.