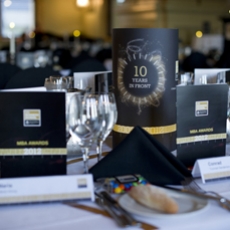 A management executive with outstanding leadership skills, a research scientist who has excelled in accounting and a consultant who dedicates his time to voluntary work are amongst those honoured in UQ Business School's 2012 MBA Awards.
The awards were presented at the annual MBA Awards Evening at Customs House in Brisbane, where the master of ceremonies was Ben Southall, former winner of the 'Best Job In The World' with Queensland Tourism and who is now an Ambassador for UQ Business School. The evening also included a keynote speech by Founder and Managing Director of Blue Sky Alternative Investments, Mark Sowerby, who completed his MBA at UQ Business School in 2003.
Alice Evans, who holds a senior position with mining services company GroundProbe, won the MBA Director's Leadership Award. Judges said Alice had enhanced her leadership profile over the course of the MBA.
"Alice has demonstrated courage to take risks and apply new business models to drive large scale change within GroundProbe, change that in turn increased her competence and led to a series of internal promotions," they commented. Alice was also joint winner of the Academic Excellence Award, which recognises outstanding academic performance based on GPA results. She shared the award with IT consultant Cameron Brown.
Dominique Gorse was another double winner. Dominique, a research scientist who manages the Queensland Facility for Advanced Bioinformatics (QFAB), won the Top MBA Award, which is given to the student who achieves overall academic excellence and who exemplifies the UQ Business School MBA.
He was also awarded the Margaret Mittelheuser AM and RBS Morgans Prize in MBA Accounting and Finance. The award, in honour of Australia's first female stockbroker, is given to the student who has excelled in accounting and finance.
The Service to the Community Award went to management consultant Luke Spiller, who dedicates a significant amount of his time to voluntary work. He is committed to the wellbeing of men and boys and each Saturday works with a local support group along with his teenage son.
The judges said: "Luke has been volunteering since he was 21 and clearly knows what it takes to build sustainable community services. There is no doubt that Luke's passion for helping others, his strong business knowledge and his humble nature combine to make this world a better place."
Associate Professor Polly Parker, MBA Director, said: "The awards applaud the achievements of the MBA 2012 graduates, their hard work and commitment, as well as the personal sacrifices that they have made whilst studying." Andrew Griffiths, Dean of UQ Business School, added: "Some of the achievements by our students are truly remarkable – all the more so since many of them carry out their studies while juggling work, family and other commitments such as voluntary work."
 
 
 
 
 
 
 
 
 
Alice Evans, recipient of MBA Director's Leadership Award and Academic Excellence Award.
With Associate Professor Polly Parker, MBA Director (left)
 
Cameron Brown, recipient of Academic Excellence Award.
With Professor Andrew Griffiths, Dean of UQ Business School (left)
 
Dominique Gorse, recipient of Top MBA Award.
With Professor Iain Watson, Executive Dean of BEL Faculty
 
Luke Spiller, recipient of The Service to the Community Award.
With Kate Ashton, CEO of The Prince Charles Hospital Foundation (right)
 
Dominique Gorse, recipient of the Margaret Mittelheuser AM and RBS Morgans Prize in MBA Accounting and Finance.
With Cathryn Mittelheuser and Gabrielle Chisholm (mid & right)